Do you feel like your kitchen chairs don't have the spark, and it needs a makeover? Why worry about the whole kitchen when you can simply paint kitchen chairs and give your kitchen a new look.
Painting kitchen chairs is simple as long as you know the right method. It's all about prepping, sanding, priming, and coating multiple layers of paint to make your chairs look high-quality.
In this article, you'll get to know all about how to paint kitchen chairs, the step-by-step method, and some common mistakes people make when painting kitchen chairs at home. Stick around to know all the answers.
Paint your kitchen chairs to give your kitchen the much-needed life
Painting can often do wonders for your kitchen walls. However, painting kitchen chairs is an equally great way of sparking some life into your kitchen. If you have kitchen chairs that feel boring and dated, you shouldn't be in such a rush to buy a new set. Instead, you can freshen them up by painting them and bringing some life to your kitchen. Painting kitchen chairs will be a relatively easy task, but you'll still need to have time and patience. However, once you've painted your kitchen chairs, it'll definitely be worth the effort.
How to paint kitchen chairs?
Choose the area where you'll be painting
One of the biggest downsides of painting your kitchen chairs at home is that things can easily get messy. You'll have to protect the area where you'll be painting from the paint getting splashed. Although there is more set up to do, using paint sprayers will save a lot of time and effort.
If you have a room where you can paint, it'll be the ideal situation. You can paint furniture in your basement, as you won't have to worry about the weather messing up the paint. You can also get a large spray shelter that you can use for spraying chairs. Setting it up will be similar to setting up a small camping tent. It can seem like a bit of a pain, but it'll help keep the paint nicely contained. Alternatively, you could rig up a painting area using drop cloths and tarps.
Prepping your kitchen chairs for paint
The next thing that you should do is remove all the woven chair seats, as you won't be painting them. Moreover, remove cloth seats as it'll improve the situation. In case the chairs are all wood, you won't have to worry about it. Then, clean the chairs using a decent cleaner for removing any dirt, dust, and grease. A good cleaning session should be one of the first steps of any painting project.
Sand the kitchen chairs
Most of the time, you won't have to sand furniture before you start painting. However, it'll certainly help if you sand your kitchen chairs before you start painting. Moreover, if the chairs have a shiny, slick surface, then you must sand them lightly. Roughing the surface slightly will give your paint something to stick to.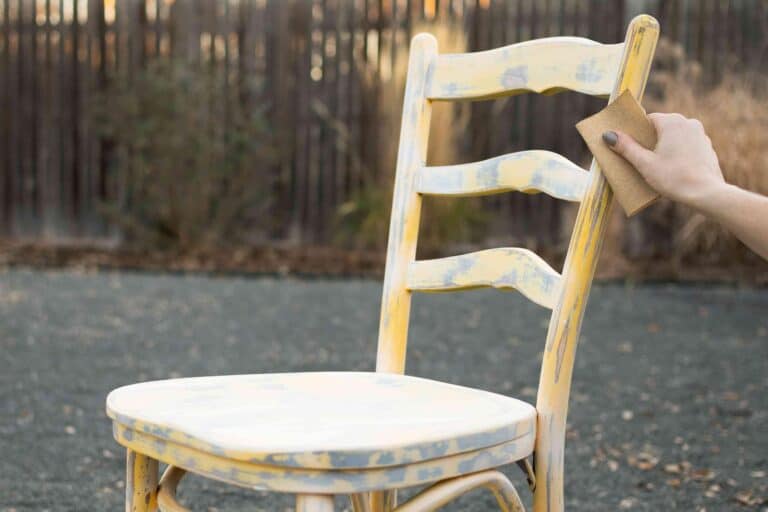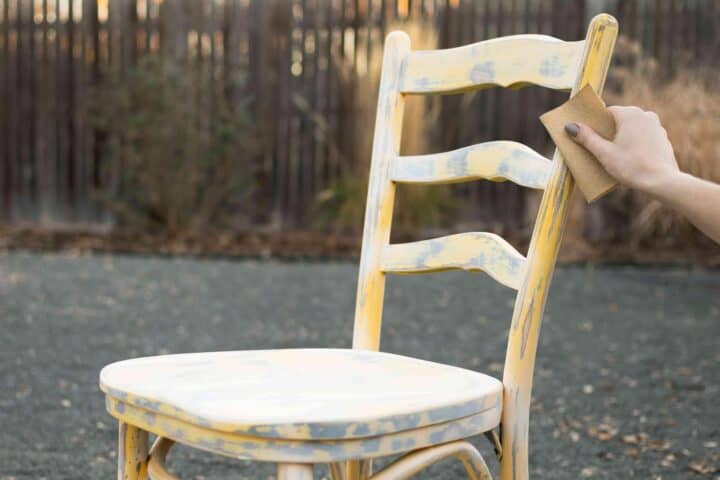 Priming the kitchen chairs
You don't always need to use primer when painting furniture like kitchen chairs. If you're painting dark wooden kitchen chairs white or another light color, a primer would be a great idea. A decent oil-based primer can easily seal in the wood tannins such that they don't bleed through and end up yellowing the paint.
It'll be a good idea to start with primer if you're painting raw wooden chairs or if you're using paint that needs primer. You can skip primer for your chairs if you're painting light wood chairs a dark color and the paint you'll use doesn't need primer.
Paint the kitchen chairs with a paint sprayer
For painting your chairs, you can use any decent paint sprayer. Paint sprayers like Homeright Super Finish Max Paint Sprayer will be a great option for numerous reasons. Firstly, it'll plug right into an extension cord so that you don't require an air compressor. Moreover, it can easily handle most paints and sealers without actually thinning them with water. You won't have to worry about figuring out the appropriate amount of water that you should add to your paint. This will really simplify the situation for you. The sprayer will come with different spray tips and nozzles. This will allow you to work with different types of paints, stains, and sealers.
You can use a decent paint option for painting your chairs, and it will spray beautifully. Look for paints that will give you a nice, durable finish. Moreover, it must be easy to work with, go on smoothly, and should not require a separate primer. Once you are ready to paint, simply stir the paint well. Then, add it to the reservoir of your paint sprayer.
When you are using the paint sprayer, ensure that you are holding it facing the furniture you're painting. Then, move the sprayer back and forth slowly across the furniture, overlapping each paint stroke. Painting each coat of paint will take a couple of minutes, which will be great for you.
Once the first coat of paint has dried down to the touch, turn the chair around to easily reach the sides and the back. Then, simply turn the chair upside down so that you're able to paint the underside of the rungs and legs. When you're painting kitchen chairs, you'll need at least 2-3 coatings to get nice and even coverage. Ensure that you let the paint dry completely before you begin the next coating.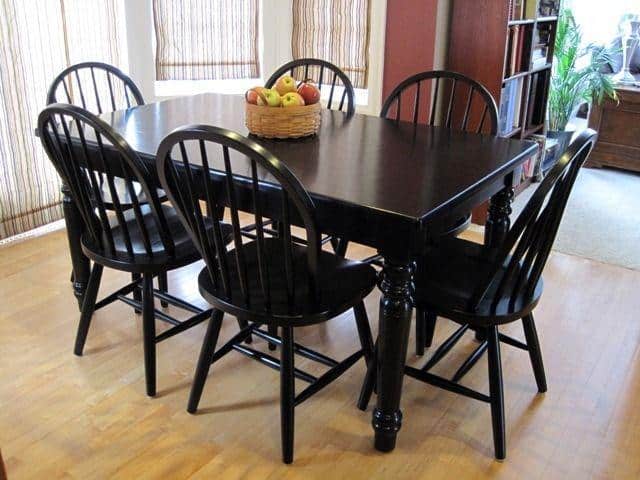 Seal your kitchen chairs
Once the last coating has dried, it'll be time to put on a coat of sealer. You don't always need to seal paint furniture, but it'll be a great idea unless the furniture is purely decorative. A high-quality sealer will help keep the paint job looking fresh for a long time. You'll need to have at least a couple of coatings of sealer to ensure that the paint finish is protected. Once the sealer has dried, carefully handle your furniture for a few weeks.
Finish the process by reattaching the chair seats, and then the kitchen chairs will be ready to go.
Common mistakes that you should avoid when painting kitchen chairs
Painting kitchen chairs can sometimes feel like riding a roller coaster. There will be ups and downs, curves and turns, and sometimes they'll look wonderful while other times they won't. You must know the right method so that you can avoid regretting why you decided to paint the kitchen chairs in the first place. While painting a kitchen chair is normal, there are a few common mistakes that people make. Whether this is your first time painting a chair or the 10th time, painting will require attention to detail. Here are some of the common mistakes that you must avoid.
Using the wrong tools
When painting kitchen chairs, you shouldn't use the wrong tools, or you'll be doomed even before you begin. Put away the cheap foam brushes or the low-quality paint, and save them for another day. The best way to paint your kitchen chairs would be to gather the right tools for the job. Invest in high-quality paint and a decent paint sprayer. A paint sprayer will be your best friend if you want to paint the chairs. A paint sprayer will be extremely dependable and big enough for house projects. You simply cannot go wrong with a quality paint sprayer. Remember the significance of having fresh-looking kitchen chairs. You'll be looking at them and using them daily. Moreover, they'll also give your kitchen a totally new look.
Being hasty in preparation
Many people are guilty of this mistake. They're so excited about finishing the painting process that they end up rushing in the middle. Make sure that you slow down and do things the right way. The preparation will be the foreplay of painting the kitchen chairs. Better prep work will make the result look much better.
Start by sanding and never make any exceptions. Regardless of the primer, wood condition, or paint, start by sanding. Power sanders will be a great time-saver while also improving the sanding process. Ensure that you have paper sand with you for any curved areas or spindles. Then, follow it with a primer. While primer isn't always necessary, if you want remarkable results, you shouldn't skip it. Even if you're fully convinced that the chairs don't need it, prime them anyway.
Plan ahead of time
You need to plan ahead and give yourself enough time to be successful. You shouldn't start painting the chairs in the morning and start sitting on them 3 hours later. Likewise, you shouldn't be frustrated that your work is taking a lot of time to be completed. You should plan ahead of time and get at least a week or so.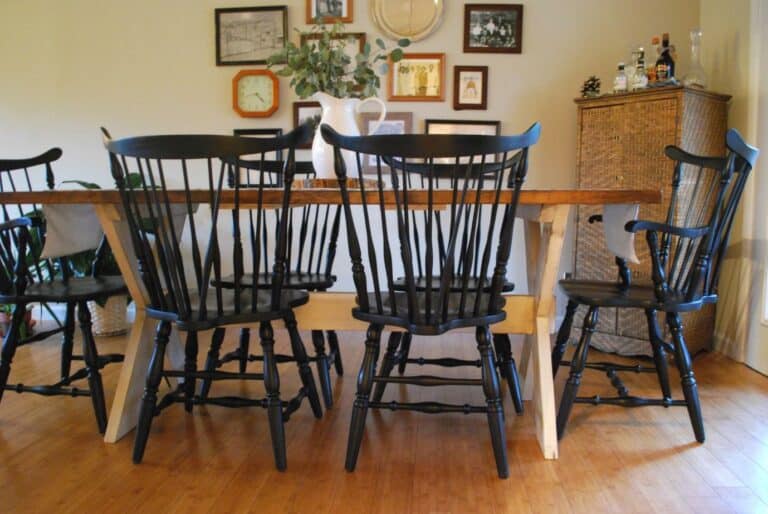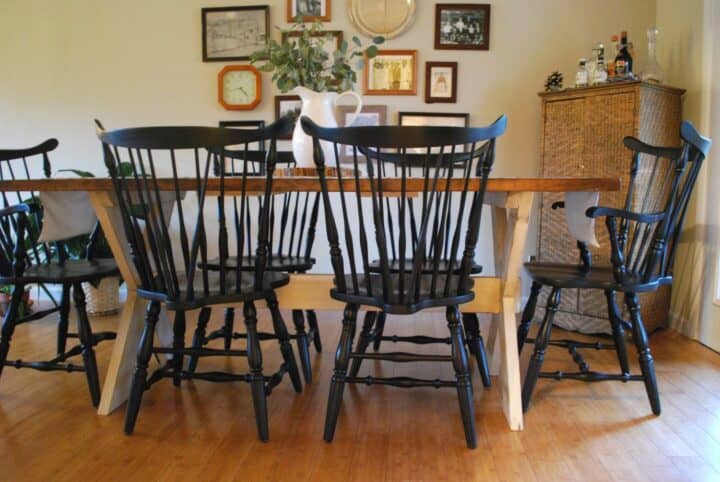 You should get an alternative place where you can have your meals. Moreover, you should gather and get the supplies ready and have access to it before you start. Don't think of painting before you're going on vacation or before a work-related deadline.
Painting dirty
Dirt and dust are essentially the arch-enemies of paint. Think about the amount of dust that comes up when you're cleaning and sanding. Take out some extra time and wipe down the chair with a clean tack cloth once you're done sanding.
A tack cloth will work far better than a dry cloth, as it'll attract dirt and pick up the minute particles of dust. Some people prefer cleaning with a paper towel or a wet rag. However, both of them will leave behind moisture or residue. Lastly, you should move the chairs to a clean area before you start painting.
Keeping the chair pieced together
It'll be easier to paint small pieces rather than large pieces. Whenever possible, you should try to take the chairs apart and paint the seat, spindles, and back separately. It'll take some extra time, but it'll create easier painting angles. Moreover, you won't need to stand out on your head and then try to paint upside down between chair legs. Try using empty cardboard boxes with drilled holes, as it'll make it easy to hold everything upright when you're working.
Not working in the right lighting
When you're painting kitchen chairs, you need to be able to see what you're doing. It is recommended that you should elevate the chair so that you're painting at eye level. You should make sure that you have proper lighting. Prefer working in the morning, as you won't get enough light at night.
Conclusion
Thank you for reading. Hopefully, now you know a lot more about painting kitchen chairs, how to paint kitchen chairs and some of the common mistakes that you need to avoid. Remember, painting your kitchen chairs will help you liven up a dull kitchen. Moreover, it will also help you give your kitchen an entirely fresh and new look. You'll successfully be able to paint your kitchen chairs as long as you know the right method to follow. You should prepare the working area, then prep the chairs before sanding them. Give the chairs a couple of paint coatings before sealing them to get the final finish.