Are you looking to remodel your kitchen, but don't know a lot about kitchen remodeling permits? Don't worry, you will get to know all about it here.
It is normal to wonder do you need a permit to remodel a kitchen. The answer to that is yes. If you're carrying out any structural, plumbing, or electrical changes to the kitchen, then you will need a permit.
In this article, you'll get to know all about kitchen permits, do you need a permit to remodel a kitchen, when do you need a permit, when do you not need a permit, and a lot more. Continue reading to get all the answers you're looking for.
Kitchen permit for remodeling the kitchen
Amid the rush of picking out new appliances, tiles, and paint colors, it can be easy to forget an important step – obtaining a kitchen permit. Often, homeowners are surprised to find out that the full interior kitchen renovations need permitting. This is important even if you're doing something very simple. However, the vast majority of kitchen renovations needed not one but multiple types of permits – electrical, building, and mechanical permits.
Kitchen permits are a way for your city to regulate the construction. It isn't just a way for the city to collect fees, permits will also be used for governing safety and ensuring energy conservation. The real question that everyone wants to know is, do you need a permit to remodel a kitchen? The answer that you need to know is only if you're adding plumbing, mechanical, electrical, or walls in the kitchen. If you're refinishing the cabinets, you won't be needed a permit. If you're removing the cabinetry or replacing it, you won't be needing a permit. If you aren't sure about needing a permit, ask your kitchen remodeling contractor, and they'll give you the answers.
What type of kitchen remodel permit will you need?
There are many types of kitchen remodeling permits that you'll require. One type of permit would be trade-specific (mechanical, electrical, or plumbing). If you've decided to run electrical to add new lights, you'll need to submit for approval for an electrical permit. For adding plumbing to your kitchen so that you can have a vegetable sink, you'll be needing a plumbing permit. This type of permit will be easy to obtain. Moreover, it'll also be comparatively less expensive. Lastly, you'll be able to get it over the counter on the same day that you've requested it.
The other type of kitchen remodeling permit is a building permit. If you're going to remove a wall, you'll be needing a building permit. If you're moving the wall and doing plumbing or electrical work, you will require this permit. Moreover, there will be a permit for each trade, which will have a full set of plans instead of a line drawing strictly for the trade that you're affecting.
When do you need a permit to remodel a kitchen?
It can come as a surprise for some people to find that kitchen permits are a necessity. Sometimes, even the most straightforward kitchen renovation jobs will need kitchen permits. Significant modifications that affect the amount of ventilation, light, exterior exits, or fire resistance will require one.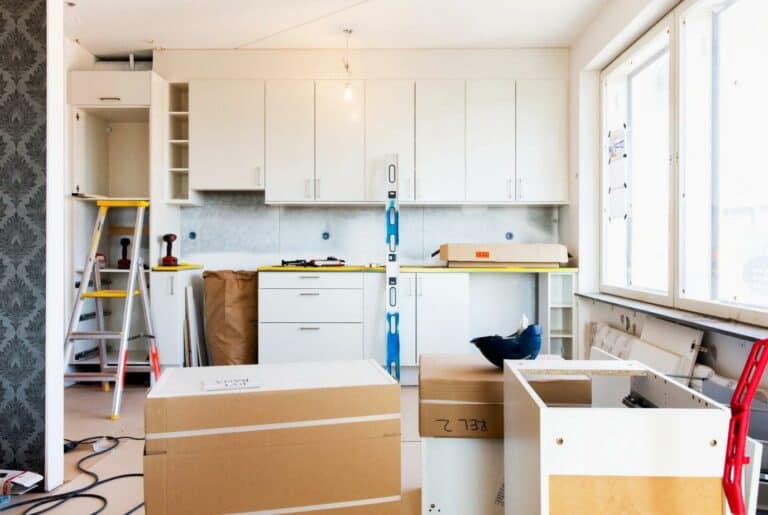 Here are the different types of work that you may be doing as a part of your kitchen remodeling project that will require a permit. However, this is simply a general overview. The exact requirements can vary greatly depending on the state or city you're residing in. You must check-in with the local officials to get a better idea.
Structural – Removing load-bearing walls or adding new walls, adding windows, doors, or skylights will need a permit. On some occasions, removing non-load-bearing walls might also require a kitchen permit.
Plumbing – Adding in new sinks, changing the location of the sink, installing new outdoor faucets, adapting to sewer lines, or replacing a water heater will need a kitchen permit.
Ductwork changes – New air conditioning installation or even rerouting existing ventilation systems will require you to arrange for a kitchen permit.
Electrical – Making major changes to existing wiring, installing new electrical wiring, or updating outlets will require a kitchen permit.
Excessive cost of the project – Other than those changes, a few cities require homeowners to get a kitchen permit if the project is going to cost more than a certain amount for completion.
What kitchen remodeling work can be done without requiring a kitchen permit?
If you're doubtful about whether you need a kitchen permit or not, you shouldn't hesitate to consult a professional. However, there are certain kitchen remodeling tasks that you can be done by you without needing a permit. Generally, replacements that do not require any wiring, plumbing, or ventilation will not be a problem. In cities like Oregon, you don't need a kitchen permit if you're going for like-for-like replacements. Some examples of kitchen remodeling tasks that don't require a permit include –
Replacing old countertops
Painting walls or kitchen cabinets
Replacing a broken kitchen sink
Replacing existing doors and windows with new ones
Replacing an already existing faucet
Replacing already existing light fittings
Re-facing the kitchen cabinets
Re-flooring the kitchen
Installing new appliances as long as you don't need any extra electrical work
Adding an island as long as you don't need a new sink or wired-in dishwasher as a part of the project
What will happen if you don't get a kitchen remodeling permit?
Technically, unless someone notifies the authorities, nothing will happen if you do not have a permit. At least, nothing will happen in the short term. Say, if your neighbor or anyone random reports you and the authorities get to know you're unlawfully renovating your kitchen without a permit, you will have to face consequences. You will be penalized with heavy fines. And by heavy, the first offense penalties could go as high as $50,000. Meanwhile, the subsequent penalties could easily go over $100,000.
If the authorities find you don't have a permit halfway through the project, you'll be forced to stop the construction. You will not be allowed to start the project until you get the needed kitchen permit. Moreover, you will probably need to backtrack and re-do the portions if they weren't included in the permit. If you sell the house and the new owner could find out you had kitchen construction without a permit. If this happens, you could be sued for a lot bigger amount.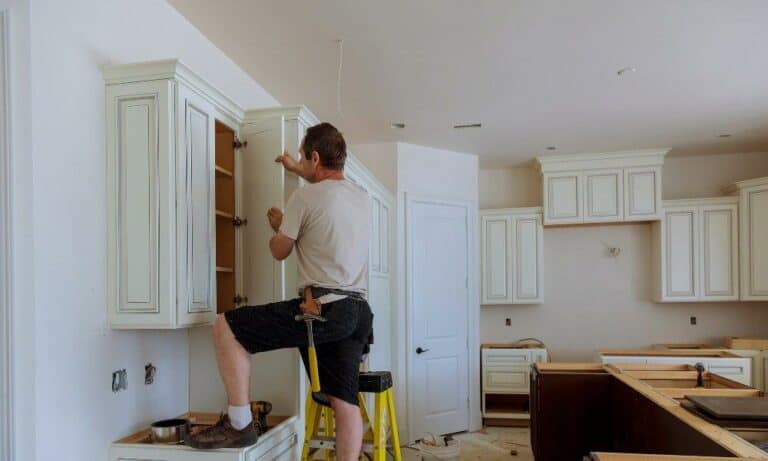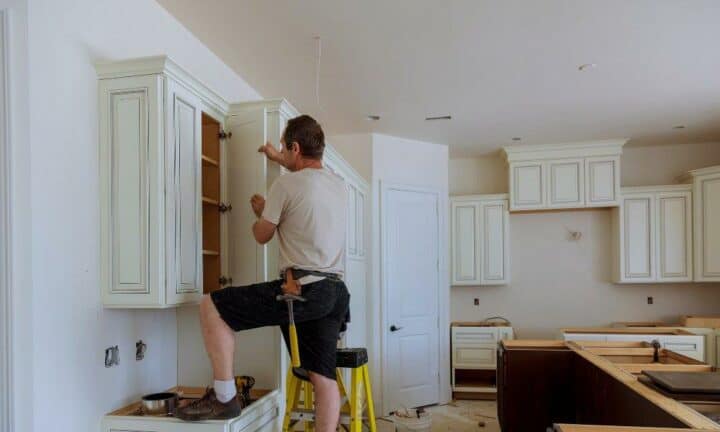 Essentially, without a permit, you will be liable for the potential safety and health risks of uninspected work. Some cities also claim that if building failure is caused by construction without permits, your insurance coverage will be voided.
So, the simple answer to what could happen is a lot can happen. You may think that you'll be safe if no one gets to know about it, but the alternate situation will be financially brutal. Kitchen remodeling without getting the needed permit is simply not worth the risk.
How to get a kitchen permit, and how much will it cost?
While you can contact local authorities for the required permits yourself, it'll be easier to seek the assistance of professionals. It might be an expensive option, but it'll definitely take the stress out of the entire thing. Not only will a reputable kitchen remodeling business near you advise you on what type of permit you require, but they will also take care of the entire process. This process typically requires creating plans, filling out the necessary paperwork, collecting fees, and attending the required inspections.
Trade-specific permits, like the ones needed for plumbing, or wiring, will be faster, easier, and cheaper to get. It will be easier than building permits needed for major structural work. The amount of work and extra expenses will depend on how big the project is.
The permit fees will be subject to the scope of your renovation. In most cities, you can expect to pay around $10 for every $1000 construction value. The construction value will be the total of material, overhead, labor, and professional fees. The fees will be due upfront when you are submitting the application.
Hire a licensed professional from the get-go?
Almost every town and city in America requires kitchen permits before you begin construction. This will be important for homeowners who are looking forward to embarking on construction projects. If you haven't started remodeling your kitchen yet, and you're wondering if you want to skip the extra expenses, don't. You will need to consider the time and effort with building permits, as they'll be issued by local officials. You must take out time to apply for kitchen permits ahead of time.
Most professional kitchen construction companies will know exactly what tasks require permitting and which ones don't. Moreover, they'll help facilitate the entire process for you. Hiring a licensed professional with a good reputation will be the best way of avoiding being in a sticky situation.
Kitchen permits exist for ensuring that renovations performed in your kitchen space are done according to safe practices. Any legal issues that arise surrounding forbidden work could get you into trouble down the road. If it is proven that you are doing kitchen remodeling without getting a permit, there will be consequences. This is why you must take the help of professionals, as they have thorough knowledge of the entire process.
What to do if you've accidentally remodeled your kitchen without a permit?
If you've accidentally remodeled your home without a kitchen permit, it'll be worth your time to talk to a professional. You will have to discuss your options with them. This will be a great way of avoiding extra penalty fees, as they'll give you bonus points for honesty.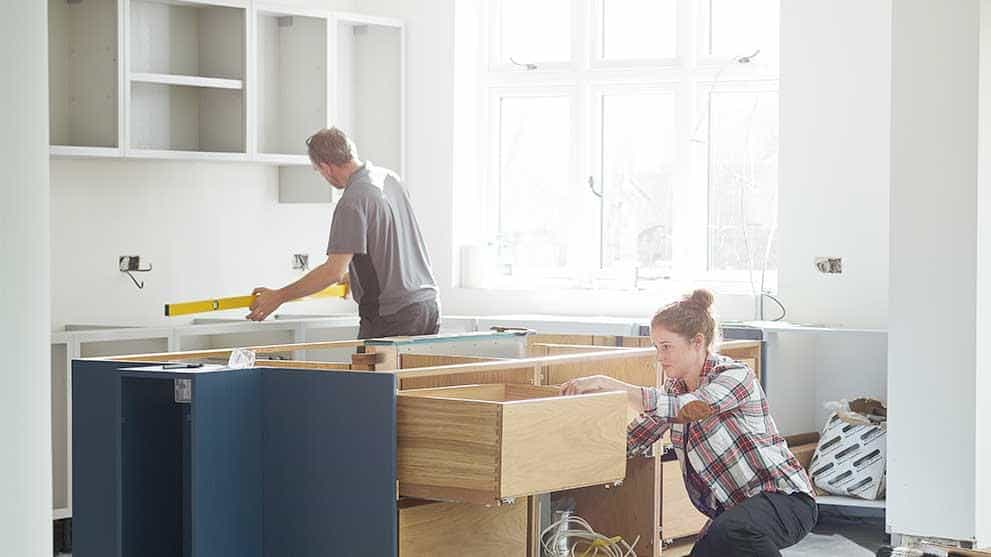 If the kitchen remodeling did not involve any major structural changes, you can reface the cabinets. You could even switch out the appliances, and you will be fine. Things like replacing kitchen floors or re-facing cabinetry will not require permits. You would even be good with cursory inspections and a smell fee to retro-permit the changes.
If square footage has been added or subtracted, or any major demolition occurred, or the kitchen was reconfigured, you added new plumbing, electrical, or gas line work, you will have to apply for retro-permits. In that case, a business inspector will visit you and ensure the work was carried out to code. This might require opening up the walls in certain areas. This will allow the inspector to inspect the interior insulation, electrical gas line, or plumbing situation. If so, then you'll be on the hook for the permit fee costs as the work opens/closes things back up. If something isn't done according to the permit, you'll be on the hook for the work left to be redone.
If you have a well-designed home with a fully permitted kitchen, it'll fetch you top-dollar on the market. You will also be able to ensure that the kitchen remodeling was done according to the best and safest practices. Having permits will appeal to homebuyers, who will be extremely wary of unpermitted construction work.
Conclusion
Thank you for reading. Hopefully, now you know everything you need to know about kitchen permits, do you need a permit to remodel a kitchen, what work doesn't need a permit, how much will it cost, and more. Regardless of how much work needed to be done, ensure that you get the necessary kitchen permit. It'll not only allow you to carry out construction under safe practices, but it'll also help you avoid any penalties.