Are you unhappy with the size of your room and want to make it look bigger using curtains? Luckily for you, this is actually possible.
Making your room look bigger with curtains is possible, as you can trick the eyes. Some of the ways to do that are by considering the color choices carefully, hanging long curtains, using light fabrics, and more.
In this article, you will get to know all about how to make a room look bigger with curtains, what colors you should choose, and some alternatives to make your room bigger than it actually is.
Make your room bigger using simple curtain tricks
No matter how big your room is, on some days, it is simply never big enough. If you've got a small room, you'll likely want to make it bigger. There are many things that you can do to make your room seem visually larger. If you properly decorate the room, no one will notice that the room's size is very limited. One of the best ways of doing that would be by letting in a lot of light.
Many studies and research have talked about the role of lighting in modern architecture design. Windows play a key role in how sunny the inside of your room is. With the right curtains, you'll be able to make your room seem a lot bigger than it actually is.
When it comes to the curtains, your options will be fairly limited. There is a wide variety of textures, materials, and patterns that you can play with. The best part is that curtains can be used to visually alter the room. Chances are that your rooms are equipped with decent curtains. However, you can use certain tricks and make your room look bigger visually.
How to make a room look bigger with curtains?
Here are some of the best ways you can make your room look bigger by using curtains.
Try to hang the curtains as high as you possibly can
The first thing you need to do before you start hanging the curtains is to position the curtain rod properly. For making the windows and the walls seem higher, put the curtain rod as high above the window as possible. Attaching the rail close to the ceiling will trick you into believing that the walls are bigger. Thus, it'll visually expand the entire room.
A rule of thumb would be to place the curtain rod around 4 inches above the window. If you don't have ceiling moldings, you should do around 6 inches. By doing that, the curtains have to be close enough to the window for concealing its edges. At the same time, it'll be high enough for elongating it and making the walls seem taller.
Long curtains will save the day
Unless the layout of your room isn't allowing for it, you must use long curtains for small rooms. Contrary to popular beliefs, curtains will not make tiny rooms look cluttered. Instead, they'll make the room seem slightly bigger than they are. You should prefer staying away from mid-length or window-sized curtains. They'll accentuate the room's space limitations while doing nothing to expand the window.
Using long curtains in your room will have a similar effect as stiletto heels have on a woman's posture. The walls will appear leaner and higher, while your whole room will get a facelift.
In fact, long curtains will give your room an entirely different feel. By letting the curtains puddle on the floor, you'll be able to bring out the romantic side of you. Alternatively, you can even tap into your practical side and leave them hanging just an inch above the floor. This way, they'll be less prone to getting dirt and dust on them.
Use railings and curtain rods
Railings and curtain rods will come in a wide variety of sizes and shapes. Remember that you should make the most of the options available, and it'll make your room look bigger. One thing that you can do is opt for a decorative curtain rod. You can choose an interesting rail from the carved wood or one that'll come with an unconventional finish or shade. By adding intricacy to the room with a detail-rich curtain rod, it'll immediately draw the eye upward while making the ceiling seem high.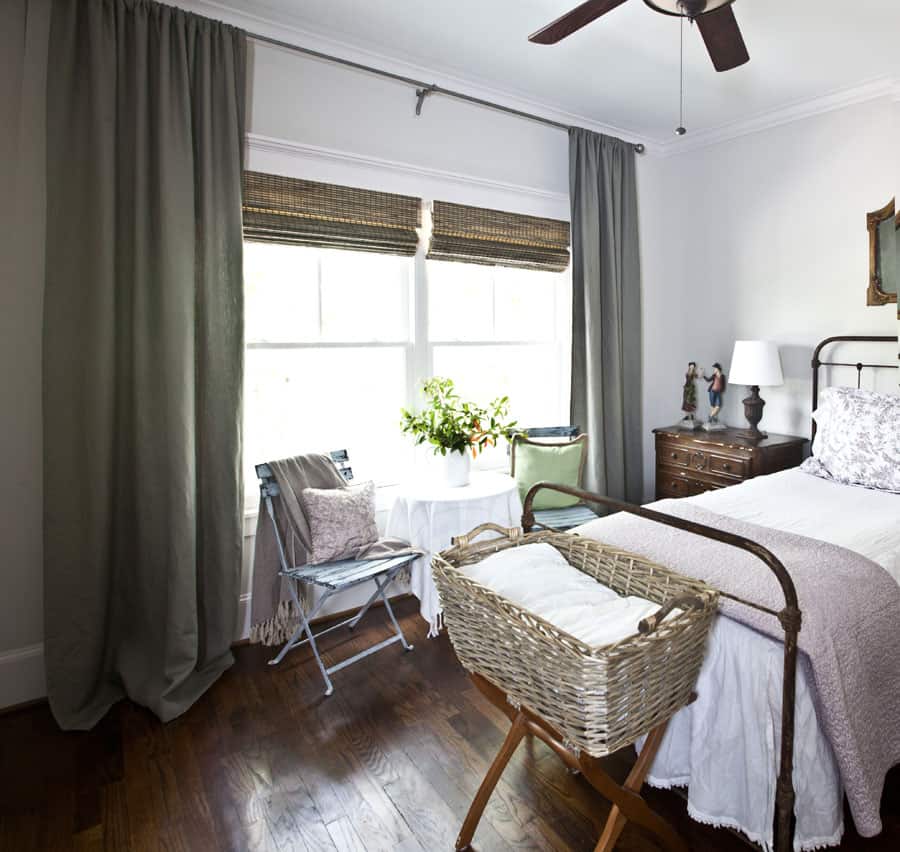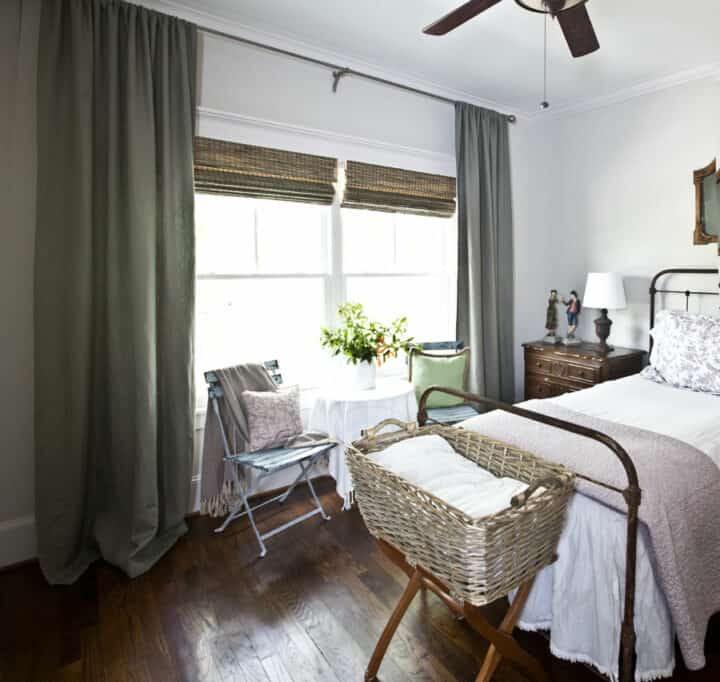 Another rick would be to install a long or adjustable curtain rod. Similar to placing the rod higher makes the room look taller, using a longer rod makes your room seem wider. Keeping the curtain rod between 8 and 12 inches wider than the window frame will do the trick.
A long curtain rail will allow you to push the curtain to the sides of the window. By pushing them to the side, they'll conceal the edges of the window frame. This will expose a window, making it seem wider. Moreover, it'll also allow more light to enter while giving the room a commodious feel.
Consider the texture of the curtains
When choosing the curtains, you should always consider the texture of your curtains. If you want to keep the curtains drawn, you should go for a material that'll let enough sunlight in. Conversely, if the curtains will mostly be pulled to the sides of the window, a better solution would be to go for a comparatively denser fabric.
The curtains will block the view in your house while also helping you achieve privacy. Therefore, going for a lightweight material like linen will let the natural light in. The light will pass through the material while simultaneously keeping any stalkers at bay.
In contrast, if you want to go for something stylish, you should consider using sturdier materials. Heavy fabrics will be easier to keep pulled back at the sides of the window frame and will leave the window exposed. An added benefit is that it'll give your room a more expensive and luxurious look.
Either way, you should remember that your end goal is to let ample light in. A room that has lots of natural light will feel airy and spacious. In such cases, having heavy and opaque fabrics isn't really your friend. They can easily clog the spaces, darken the room, and come across as stuffy.
Go for a light color scheme
To have a lot of natural light entering your room, you should use light-colored materials for the curtains. Plain white, beige, or silver-gray will be the safest options. These colors will allow the light to come in and illuminate the room. It'll give your room an open and inviting feel.
For a similar but mellower effect, you should go for an off-white shade like eggshell or greige. Remember that pastel pink, pale yellow, or light apricot color will shower your room in warm, sunny tones. It'll make your room equally welcoming and spacious.
Keep the wall and curtains the same color
Another trick that you can make to make the most of your space would be to have the same color of curtains as the walls. This way, the curtains will be able to blend into the walls instead of intruding on the space. This will make your room seem bigger than it is, while also giving it a spacious look.
Choose cool colors to make the room open and airy
It is a known fact that the white color makes everything look bigger. If you cannot have a blank white curtain, you should opt for open and airy colors. Replace the grays and dark blues with light blues and greens. This will brighten up your room and make it feel instantly more open and spacious.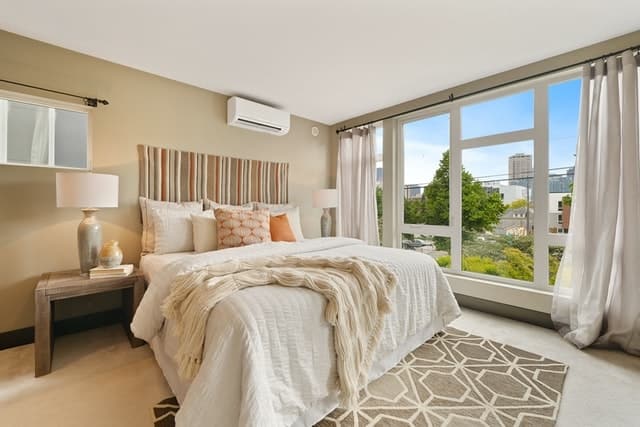 Colors have a massive role when it comes to determining the decor in your house. You can use them for drawing the eye to a particular portion of the room. Moreover, you can even utilize them to make your room look bigger than it is. To make your room seem bigger, open, and airy, you should choose curtains that are tan, white, light gray, light blue, green, or patterned.
Alternate ways to make your room look bigger
While curtains are one of the best ways of making your room look bigger, there are many alternative ways too. Here are some of the alternate routes you can take to make your room seem bigger.
Draw attention to an ancient piece or artifact
Choose a point that is a long way away from the door and place an ancient piece there. Whether it is a painting, plant, or an unusual ornament, the eyes will be drawn to that piece. This will make your room seem bigger than it actually is.
Utilize multipurpose furniture
If you have a small room, then one of the biggest issues will be storage. To make your room seem bigger, you should try to have as much floor and wall space as possible. This wouldn't be possible if you fill your room with unnecessary furniture.
The simple solution would be to go for dual-use furniture. You will be able to use it for storage space, as a table, for seating, and more.
Use clever lighting
The eyes tend to get drawn toward the light. Overhead lighting will draw your eyes towards the ceiling, whereas corner standing lamps will emphasize the size of your room. You must arrange lighting options around the room in a strategic way. By using lamps on the wall, tiny table lamps, and candles, you can make your room look bigger.
Install wall lamps
You can save floor and surface space by simply choosing a wall-mounted lamp instead of tables-standing or floor-standing.
Choose monochromatic colors when buying furniture
When you're buying furniture, fittings, ornaments, and carpets, you should pick different shades, tones, and tints of a single hue. Multi-colors may make your room look exciting but they can also overwhelm a small room, making it look smaller. Monochromatic colors will be easy on your eyes. This way, you will be able to take in the whole room without actually being interrupted by contrasting colors.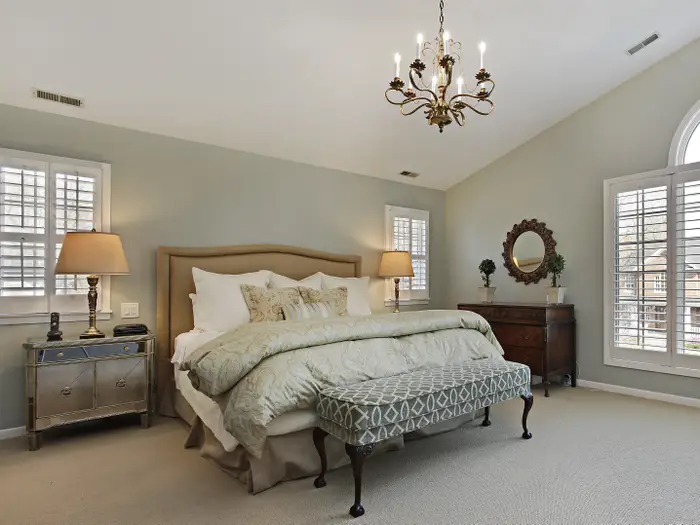 Use your shelf smartly
It can be tempting to stuff your shelves with everything from your books to shopping bags, napkins, and other stuff. However, you must avoid filling your shelves too much.
Leave out some empty space as it'll show you the true depth of the room while creating an airy look. If you have books that you have to house, simply pick floor-to-ceiling bookcases. This will make your ceiling look higher while also making your room look bigger.
Clean the windows
Having clean windows will not only make your room look clean, but it'll also make your room look bigger. Clean windows will make your room look spacious too.
Dirty windows can easily distract the eye, preventing light from coming in. You must ensure that the glass is thoroughly cleaned inside and out. If you're looking for a cheap option, simply fill a spray bottle with white vinegar and then dry it using an old newspaper.
Conclusion
Thank you for reading. Hopefully, now you have a far better knowledge of how to make a room look bigger with curtains. Using curtains is one of the simplest and most effective ways of making your room look bigger. Choosing the right color, the right length, and the right material can easily change the way your room looks. The simple curtain tricks mentioned above will help you greatly if you want your room to look bigger.