Do you feel your room is lacking in the art and creativity department, and butterfly decor will fill that void? If so, then you're definitely right and this article will let you know how you can achieve that.
Making butterfly wall decor is actually effortless and can be done within a matter of minutes. There are tons of exciting designs and decorations that you can make using paper butterflies. All you'll need are a pair of scissors, glue, and colored paper.
In this article, you'll get to know all about how to make butterfly wall decor, the different types of decorations you can make, the important tips you must keep in mind, and a lot more. Stick around to know all the answers.
Butterfly wall decor to fill your room with art and creativity
Why spend an absurd amount of money on premium wall art and decor when you can simply do it yourself? There are many DIY ways that you can brighten up your room with your handmade art. One of the best ideas would be to make beautiful butterfly wall decor. You'll be able to decorate almost any room with paper butterfly wall decor, or even by using butterfly stickers. There are many moods that you can achieve with butterfly decor, from a romantic mood to a cheerful mood to a soothing ambiance. If you're eager to decorate the walls, you can go ahead and learn how to make butterfly wall decor.
Many people tend to use butterfly wall decor for coming up with aesthetic designs for their walls. There is nothing simpler or better than these butterfly craft projects. Butterfly wall decor will require few materials yet give you breathtaking results. This simple butterfly wall decor guide will prove that in more ways than one. To know more about it, continue reading.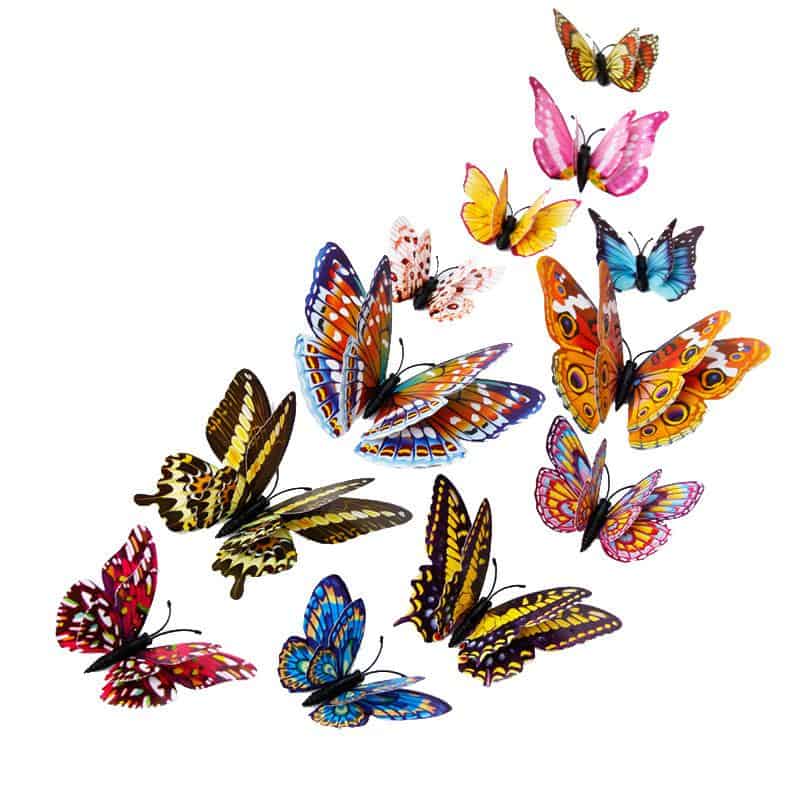 Glow in the Dark Butterflies
Imagine having a room filled with the wonders of a magical atmosphere – it'll surely give a sense of excitement to your minds. If you want to make this imagination of yours a reality, then there's no better way to do it than with these delightful glow in the dark butterflies!
Instructions to create butterfly wall decor
Take a crisp piece of paper. It can either be a colorful one, ordinary white paper, or patterned paper. The color choice and the pattern will depend upon your personal taste and the dimensions of the room. You should consider the overall vibe of the room where you're going to place the butterfly wall decor.
For creating the butterfly wall decor, you'll be able to use a stamper for pressing butterflies. You can even search for butterfly images on Google and then choose the silhouettes. Choosing the right template will be an important step for your decor. You can even look for butterflies of different sizes to create a more interesting design and variety of butterfly decor. Now, you'll have to print the chosen images and cut out the silhouette. Once the templates are ready, simply cut out the silhouettes from your paper.
For creating 3D butterfly wall decor, simply fold the butterflies in all the places their bodies meet the wings. After that, you should curl the wings using a normal pencil.
Once all the butterflies are ready, it'll be time to start thinking about how you have to arrange them on the wall.
How to make butterfly wall decor?
There are several exciting ways to add butterfly wall decor to your room. It'll be an exciting-added touch to any room, although even more magical would be when used for kids' rooms. You'll be able to let your imagination fly and use these DIY ideas for your butterfly wall decor.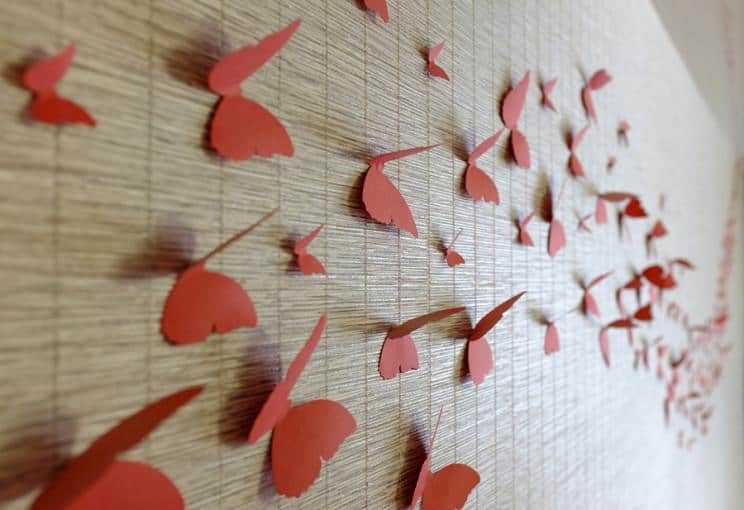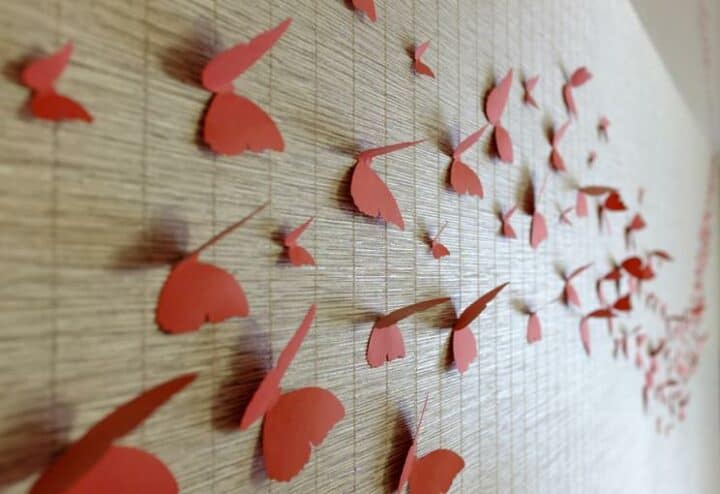 Whether you intend to give your bedroom a unique look or lightening your studio, butterflies can be used for everything. You can use butterfly decor for your child's room or have a DIY project in the living room with your family. Imagine how colorful and transient your rooms can be with butterfly wall decor. Find the best ideas for decorating your walls with the creative butterfly wall decor.
Butterfly chandeliers
If you love hanging chandeliers, you will fall in love with the idea of butterfly chandeliers. The butterfly wall decor chandelier will be a cute addition to your room. These handmade, DIY decorations will be perfect for a nursery or your child's bedroom. You can use different colors and designs to give the chandeliers an attractive look.
Bright and beautiful butterfly wall decor for kids
Of course, it cannot get much better than crafting stuff with your kids. You can make cute little butterflies with your kids and involve them in decorating their own room. For making bonny butterflies, all you'll require is a bunch of paper sheets of your choice of color. You will also require a pencil for tracing the outline of butterflies and scissors for cutting out the shape.
You'll then have to choose an adhesive for sticking the butterfly cutouts to the wall. Make sure that you offer guidance to your kid, as it'll be the perfect craft project for a fun day.
Within a couple of hours, you and your kids will be able to craft dozes of cute little butterflies. Moreover, you can give your kids the freedom to create any shape, pattern, or design. You can either go for a single color or go crazy with different color options.
Floating butterfly lanterns
Your kids will definitely love this magical concept of floating butterfly lanterns in their bedrooms. Lanterns will be a great way of adding depth and atmosphere to the rooms. Butterfly lanterns will contribute to the lighting and color of the area while giving off a magical ambiance. You can easily make these super cute lanterns yourself and surprise your kids. You can even make these lanterns with your kids and experiment with light and shadows.
All you'll require are paper, pen, wire, scissors, glue, thread, a jar, and a ruler. For making butterfly lanterns, follow these instructions –
Draw the silhouettes of butterflies over the paper and cut them.
Measure the paper around the jar and then cut it. Turn the paper into a cylinder and then glue the butterflies.
Make a curved shape on one end of the wire and then attach butterflies using a thread. Now wind it around the jar's mouth.
Glue the cylindrical paper of the butterflies into the jar.
Now, put a neat little candle and your magical butterfly lantern will be ready.
Craft fabric butterflies for the room
You can also make butterflies made of silk, organza, or satin and use them as butterfly wall decor. They'll be nice for decoration and allow you to utilize the leftover fabrics.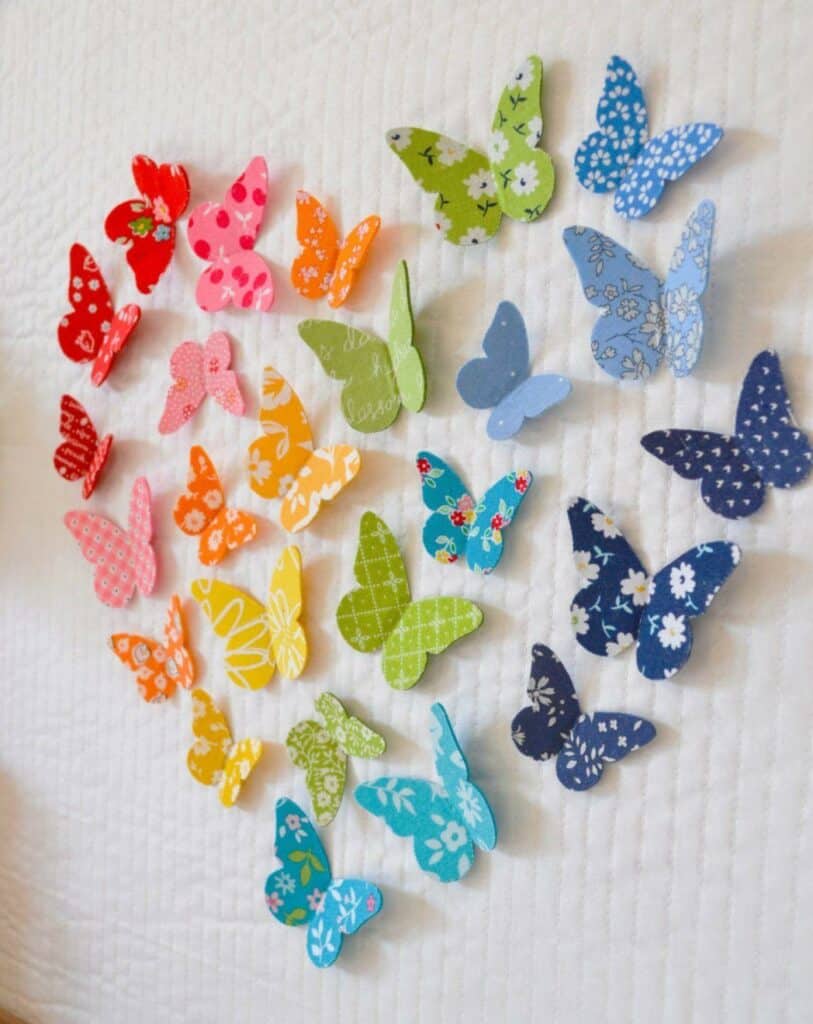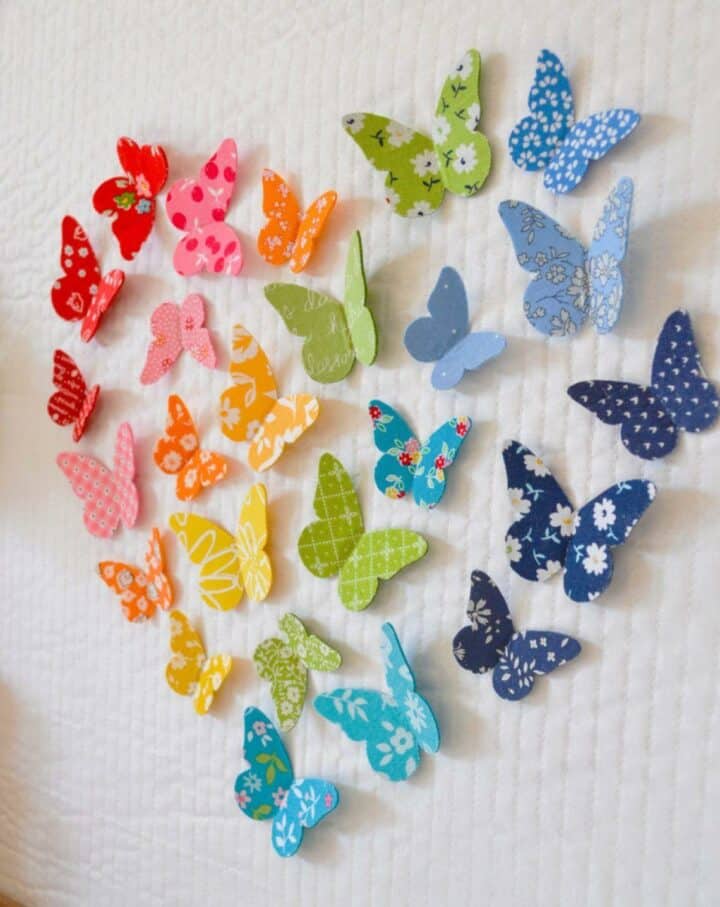 There are numerous ways of making fabric butterflies, including beads butterflies, crochet butterflies, plastic butterflies, and more. You can either make them for decorating your significant other's room, or it'll also be a great decor option for your child's room.
To make these pretty fabric butterflies, you'll need –
Satin, silk, or organza
A bit of felt
Silicone glue gun
A hair clip, brooch pin, or other accessories
A pair of tweezers or scissors
Modeling wire or a bobby pin for the antennae
How to arrange butterfly wall decor in your room
There are multiple ways you can arrange and showcase the butterfly wall decor. You will be able to stick them directly to your room's walls. You can even place the butterflies on printed paper and frame your artwork. However, as a butterfly wall decoration is textured, you should not use frames with glass. If you've chosen to place the butterfly wall decor on the wall directly, you can attach them using double-sided tape or safety pins. If you're attaching the butterflies to paper, you can make use of ordinary glue or use double-sided tape.
Regardless of where you're placing the wall decoration, you will have the freedom to arrange your artwork in several ways. The simplest way would be to place butterfly wall decor in multiple rows. However, the freestyle arranging will be more widespread and look more interesting. The butterflies can even be played in certain patterns. The heart shape is among the most popular designs. It'll look great in any shape, whether you're placing them directly on the wall or on paper.
If you're using butterfly wall decor, you should go for different sizes and colors. You'll be free to locate them from lighter to a darker shade, smaller to larger, or even in a rainbow pattern. You can even make other patterns like rounds or swirls. There can even be large butterflies that consist of small butterflies. You should give all the designs a try and then decide which one suits your room's ambiance the best.
Key tips to remember when creating butterfly wall decor
The size of the butterflies
Before you start making butterfly wall decor, think of how you want the artwork to look. Define the size of the butterflies you'll be making. These can either be 1-inch or bigger. Ultimately, it'll depend on how long and big you want the butterfly decor to look. It'll look cool if the butterflies are of various sizes. You'll be able to mix and match them in different styles and colors. You could even place the butterflies in the order from the largest to the smallest.
The shape of butterflies
The shapes of butterflies can be different as they'll give an appealing design. They can even be simple silhouettes or complicated designs featuring interesting shapes of wings. You'll also be free to use the same shape for all the butterfly cutouts, or combine different shapes for variety.
The color of the butterflies
You will also have to choose the color for the butterfly wall decor. The simplest variant would be to use white color and make them from ordinary A4 sheets. Such butterfly wall decor will work perfectly with a white interior, as it'll add texture to the wall. Another option would be to use butterfly decor of bright colors. Using bright colors will make the interior give a happy and cheerful mood.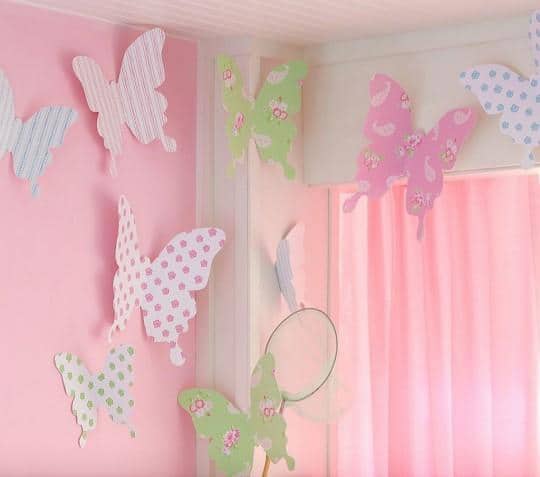 The color choice will depend upon your room's interior. The butterfly wall decor needs to look organic in it. At the same time, it must attract attention as well. For instance, if you've light pink walls, the butterflies should be in the brighter shades of pink, purple, or violet. The butterfly wall decor could be of different colors as well. This type of decoration will look best in rooms having neutral walls.
The butterfly patterns
The paper and design of the butterfly wall decor can be patterned as well. Usually, abstract prints are used for making butterflies. You can easily make the butterfly wall decor in a single color and place them in the ombre manner. A great pattern would be the graduation from white to hot rose, as it'll look very quirky.
Conclusion
Thank you for reading. Hopefully, now you know a lot more about how to make butterfly wall decor, the instructions to create butterfly decorations, important tips to remember, and a lot more. All that you will require are a pair of scissors, paper, pen, glue, and more. There are many ways you can utilize butterfly wall decor to cheer up your room. This article would have shown you how to use butterflies as wall decor and let you know how easy it is. While this artwork can be used to decorate any room, it would be best for use in nurseries, bedrooms, and living rooms.