Do you have a kitchen that doesn't get enough natural light, and you want to brighten it up? Luckily for you, that is actually possible.
Brightening up a dark kitchen is simple and there is a multitude of ways to do that. For starters, you can always play around with the lighting, use mirrors, use lighter paint colors, purchase white appliances, and more.
In this article, you'll get to know all about how to brighten up a dark kitchen and how you can easily give your kitchen a brand-new look naturally. Stick around to know all the answers.
Brighten up your dark kitchen easily
Do you have to squint your eyes when chopping fruits or washing the dishes? Regardless of how beautiful your kitchen looks, this shouldn't happen. Having a dark kitchen with poor lighting is a lot more than just an inconvenience. Your kitchen shouldn't resemble a dark cavern because of dark cabinetry, dull wall colors, or lack of natural light. Having a dark and gloomy kitchen can greatly impact your cooking. Moreover, studies and surveys have found that lack of lighting in any workplace, including the kitchen, can lead to headaches, fatigue, eye strain, and other issues. Your kitchen is the heart of the house, and it deserves special care and maintenance. Give it special love by brightening it up and making it a wonderful place to cook food.
How to brighten up a dark kitchen using simple tricks
You must have a bright kitchen. Here are some of the easiest and simplest ways you can brighten up your dark kitchen.
Paint the walls white
White color reflects light, which can greatly help in brightening up dull areas. Painting the walls white is the easiest trick in the books, and it works every single time. White walls will reflect the light, and it'll make even the darkest place feel infinitely brighter. Moreover, the white color goes with everything. Painting the walls and cabinetry white will create a seamless flow of surfaces while easily blending into each other. This doesn't just make the kitchen brighter, but it'll also give a feel of openness.
You should paint at least 2-3 coats of high-quality white paint on the walls. This will give them an opaque, creamy finish. When the morning sun hits those white walls, you'll feel like you've just entered the sunny Mediterranean. Near the countertop and the cabinets, you should go for easy-to-clean paints. These can easily be wiped clean off the stubborn grease and masala stains.
Mix with accents
Juxtapose your walls with wood or brighter colors to liven up your kitchen space. This will energize the ambiance of the kitchen with a subtle brightness. You can go for shades of muted turquoise or similar ones, as it'll streamline your kitchen. Having wooden paneling on the ceiling will give it another layer of texture. The beautiful contrasting shades will illuminate the places subtly.
Play around with LED lights
In case your kitchen lacks natural light, you'll need to look for ways to introduce different layers of lighting. Moreover, you should look to add drama and depth to the space. LED lights complement high-heat zones such as kitchens. This is the case because LEDs offset the temperatures of the space with cooler hues. You should consider installing white LED lights under the cabinets. Moreover, you can even install LED strips on underfoot for getting a recessed effect.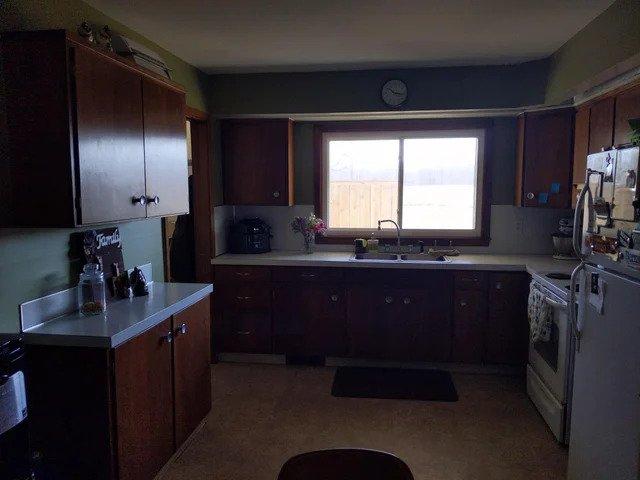 Accentuate the brightness with metallic shine
A bit of shine is always good, especially if you have a kitchen that lacks brightness and luster. If the budget permits, you can simply go for metallic cabinets. Alternatively, you could even look to bring in a stainless-steel sheen with kitchen appliances like chimneys, microwaves, and refrigerators.
Use a window to bring in a faux skylight
The lack of windows can make a kitchen a bit claustrophobic and dreary space. Hanging a mirror will help reflect light while also giving the illusion of expanded space. The mirror will also double in as a handy backsplash and result in a lean and long kitchen. If remodeling the kitchen is possible, explore installing a skylight if the layout of your house isn't permitting a window.
If a skylight isn't possible, a trick could be to create the illusion of one. You can install a skylight-sized backlit panel, giving clear, white light for a refreshing effect.
Declutter and organize the kitchen
There is no doubt that having a clean and organized kitchen will look nicer and brighter than a filled one. Ensure that you don't have too much clutter and appliances lying around. A clean, clutter-free kitchen will bring in a positive vibe while intensifying the available light. Glass cabinets will also be a clever addition, as they'll minimize clutter and reflect light while livening up the kitchen.
Add recessed lighting in strategic places in your kitchen
If you have the resources to install recessed lighting in the kitchen, it'll drastically change the way your kitchen feels. The recessed lights can be tucked into the ceiling so that they don't detract from your line of sight. You can install lights in front of the upper cabinets such that the entire light shines down. It'll easily cover the areas where you require the light the most, including the food prepping areas and the sink. Moreover, you should install lights in strategic places, as it'll help you fill out the rest of the room automatically.
Stain the kitchen cabinets a lighter color
One of the best ways to brighten up a dark kitchen would be to use lighter colors in the space. This will mean painting or staining the kitchen cabinets, as they constitute the bulk of the kitchen. If you intend to get new cabinets, you should look for lighter colors. You can use either white cabinets, light gray stains, light wood stains, and more.
If you're worried about your fingerprints getting left on white cabinets, prefer using dark-colored lower cabinets for hiding the dirt. These cabinets will be most susceptible to spills, fingerprints, child messes, and more. You can have a light color at eye level, as the kitchen will feel brighter overall.
Take advantage of natural light
This is essentially a free method of brightening up your dark kitchen. If you have windows in your kitchen, do not block them with window treatments. In case you're worried about privacy, you can simply add privacy film to the window. It'll give you privacy while still allowing light to come in. You can even use sheer curtains instead of using dark curtains. The more natural light you get in the kitchen, the bigger and more spacious it'll feel.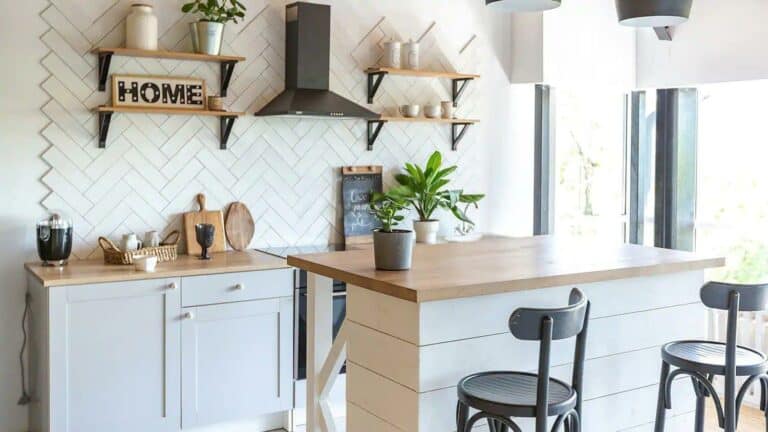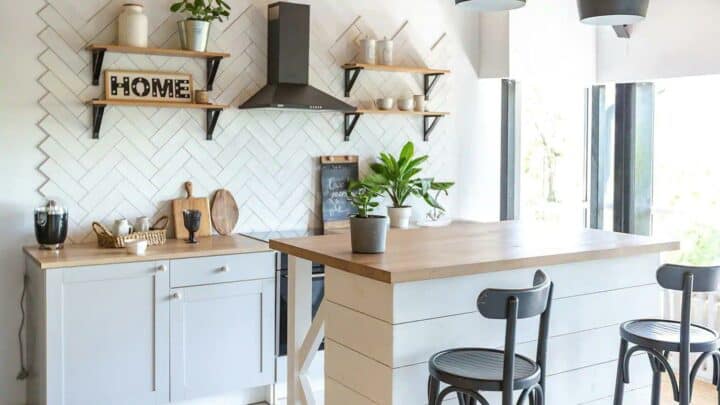 Use reflective surfaces like glossy tiles
You should want the light to bounce around in the kitchen. This doesn't necessarily mean that you need to install mirrors everywhere. You can achieve the same by using reflective surfaces. You can add glossy tiles that complement the appliances and finishes in the space. Furthermore, you must look for ways to help the light travel in the kitchen.
Install under-cabinet lighting
Your ceiling isn't actually the only place where you can install light fixtures in. Under-cabinet lighting will give a glow that spreads all around the kitchen. If you have reflective tiles on the backsplash, the light travel even further. The lighting will showcase the decor that you have on your countertops, which would otherwise have been hidden in the shadows. Show off your cookware or gorgeous backsplash with inexpensive lighting solutions.
Avoid any busy patterns for flooring and countertops
To brighten your kitchen and make it feel lighter and more open, your eyes need to travel throughout the space. If you've installed a busy countertop or have an intricate mosaic backsplash, your eyes are going to stop at those pieces. While there is nothing wrong with having a focal point in your kitchen, you should be careful with how it will impact the look and feel of the kitchen.
Open up your kitchen to other rooms
This is a proven but slightly complicated way of bringing more light to your kitchen. You can make use of natural light from other rooms and try to create a line of sight in your kitchen. This will be a great option for load-bearing walls, while it won't require an expensive support beam to be constructed. Opening up a wall might not be a viable option for everyone, but if you see an opportunity, take it.
Make use of fresh produce
Artists have long been immortalizing fruit bowls for centuries. There is more value to this than just aesthetic purpose. This bowl of fresh fruits will be a great centerpiece for the kitchen.
You should look to invest in a beautiful fruit bowl and preferably keep it topped all the time. Fill the bowl with fresh lemons, oranges, bananas, and more. You can even arrange seasonal fruits and vegetables for an eye-catchy centerpiece. This will help you ensure that the whole kitchen feels bright and fresh.
Get a brand-new countertop
Many kitchens feature dark countertops in colors like brown, black, or green granite. You can brighten up your countertop by replacing it with a light-colored material, like a white or beige shade. For a budget kitchen, you should try to laminate or a solid surface material such as Corian. For a more luxurious remodeling, go for marble, quartz, or granite.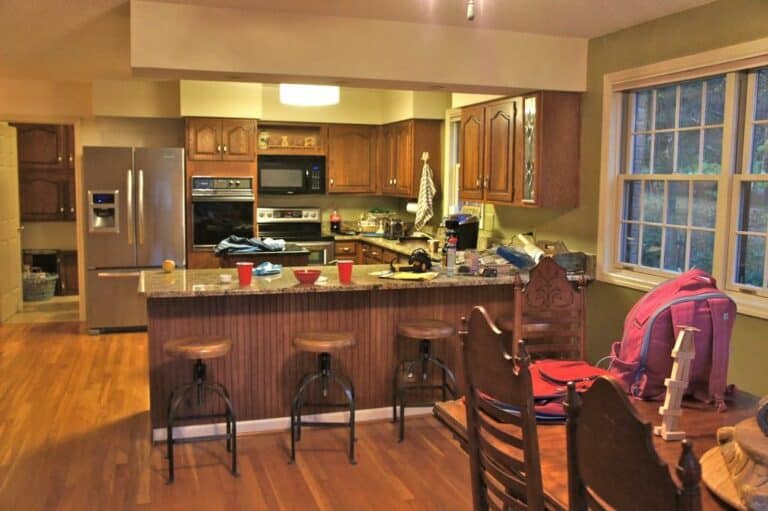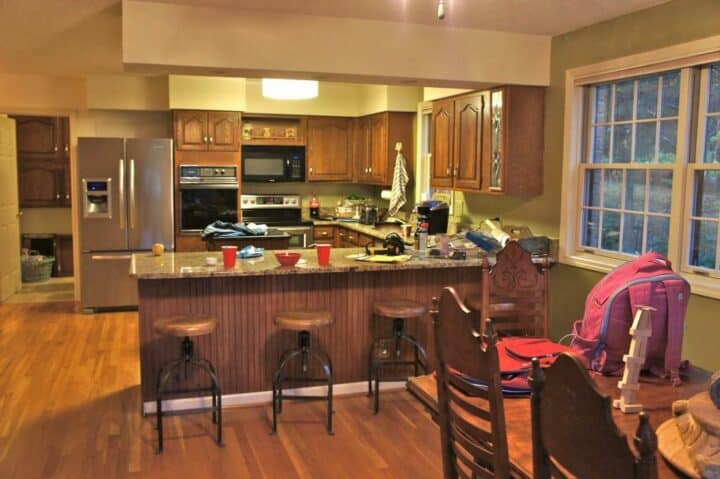 Replace the kitchen door
If you have a solid core door that opens into a light-flooded space, replace it with a glass-paneled alternative. If possible, you can convert the traditional door to a sliding door or a pocket door. This will allow you to save space while also letting in the natural light from the adjacent room.
Go for backlighting
Lighting technology has revolutionized the way people use lighting, making backlighting far more affordable than before. Tiny LED lights can be fitted across your countertop and even inside the dark cupboards. This will bring in a subtle, warm light into the shadowy nooks and crannies.
You will be able to choose from a wide range of colored LED bulbs. You can try out blue lights for kitchens that are decorated in different shades of white, chrome, or black. Likewise, you could even go for yellow-tinged lighting in kitchens that follow a warmer or a neutral color palette. LED bulbs can easily last for many years, so you won't have to replace your backlighting for a while.
Channel the flower power
Cut flowers are usually displayed in prominent places like living rooms or bedrooms. However, you can create a flower display as the centerpiece of your kitchen and give the kitchen a spark. You should choose light and bright flowers like hydrangeas, peonies, or carnations, and then arrange them in a glass vase. You should ensure that you change the water once every few days. The natural radiance of the lowers will make your room feel airy and fresh, while also drawing attention.
Conclusion
Thank you for reading. Hopefully, now you know a lot more about how to brighten up a dark kitchen and give it the spark it needs. Working in a dim, dull kitchen is never a good idea. There is a lot that can go wrong, plus it doesn't look good from an outsider's perspective. You should ensure that you do your best to brighten up your kitchen. There are several ways you can do that, as you'll see from all the proven methods mentioned above.