Do you find your shower door a bit bland, and you want to decorate it and spice it up? If so, then you're definitely in the right place.
Decorating shower doors with curtains is an obvious solution. There are hundreds of serene curtains available that will instantly improve the beauty of your shower doors. Apart from curtains, there are other decorative options as well.
In this article, you'll get to know all about how to decorate shower doors with curtains, the alternative decorative measures you can take, and a lot more. Continue reading to know all the answers.
Decorate your shower doors
If you're someone who loves their washrooms, you probably spend a lot of unnecessary time there. There is just so much to do. You've to do things like hosting concerts, pretending to be a singer, overthinking, and taking important life decisions while showering. If you love spending time there, you'll probably want to decorate it and make it look as beautiful as possible.
Shower doors can be easily spiced up by installing a cute shower curtain. However, not all showers come installed with rodsfor curtains. What do you do in such situations? Are there any alternatives to decorating your shower doors? Continue reading to find out.
Can you install shower curtains over shower doors?
Yes, despite using a shower door, you can still use a shower curtain. Not only will it give you added privacy, but. For installing a shower curtain on the shower door, you should place a spring shower curtain rod. It must be installed on top of the shower door and in between the shower walls. You can use clips or rings for attaching the shower curtain to the rod.
One of the things that you must remember is to keep the shower curtain on the inside of the door. This way, the shower curtain will offer privacy while also protecting the door from soap scum and water stains. You can remove the curtain setup if you want to clean them or change the curtains for a fresh vibe.
How to decorate shower doors with curtains?
Shower curtains are the most obvious option if you're looking to decorate your shower doors. These curtains come in different shapes, sizes, and designs. Curtains will play a key role in determining the vibe and decoration of your washroom. The best thing is that once you're grown accustomed to the decoration, you can change the curtains and introduce a new vibe. Incredibly, you can even make shower curtains at home and make as many customizations as you want.
Here are some of the different ways you can decorate your shower doors with curtains.
#1 – Vinyl shower curtains
Vinyl shower curtains are some of the most common and trusted options for decorating the shower doors. Not only with they match the aesthetic of the shower, but they'll give you added privacy while also saving the shower door from soap and water spots. You can find several exciting options at your local store or on online shopping sites.
#2 – Hemp shower curtains
Hemp, as a fabric, has been becoming more and more popular as a viable alternative to vinyl shower curtains. Hemp curtains are eco-friendly, sustainable, and water-resistant, making them an exceptional option for decorating shower doors. Hemp shower curtains will not absorb water easily. This makes them less likely to turn into a breeding ground for bacteria and mold. This is one of the reasons why you don't need to wash them as often as cotton curtains.
However, there is one downside to decorating your shower doors with hemp curtains. It can feel a bit rough and be more difficult to clean than cotton curtains. Although, hemp curtains become comparatively softer after a few washes.
#3 – Cotton shower curtains
Cotton features a natural appearance that will complement well with the minimalistic style of your shower doors. Very soft yet strong, cotton curtains will be perfect if you want to have a homey but natural aesthetic.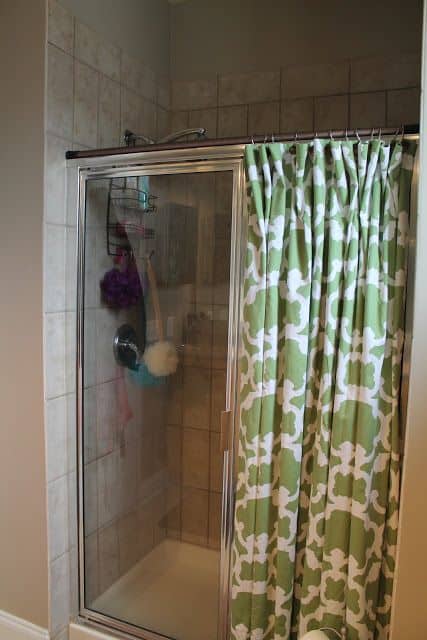 Moreover, cotton shower curtains are incredibly easy to clean. You can simply throw them into a washing machine and let it do the rest. A smart option would be to get cotton-polyester blends, as they'll be less likely to shrink after a few washes.
#4 – Rollup shower blinds
As shower doors have become modern, decorating them with shower blinds will be perfect. They will fit well with modern designs while giving a beautiful decorative look. It'll still look similar to a traditional shower curtain, but it'll roll up like a window blind.
This alternative will give you a lot of customization in terms of style, texture, color, and privacy. You will be able to roll down the shower blind depending on your desired length and then roll it when not being used. This will keep the blinds out of the way.
If you wish to have privacy in the shower without a shower curtain hanging, use shower blinds. Having rollup shower blinds will give a cleaner, less-cluttered look. When rolling up the blind, you should ensure that it's 100% dry; otherwise mold might grow in the metal housing.
Benefits of decorating shower doors with shower curtains
A shower curtain will be easier to clean – A shower curtain can be easily washed by throwing it in the washing machine or manually washing them. In comparison, a glass door needs to be cleaned on the inside and outside. The curtains can be cleaned regularly and any gunk or mildew will not collect in the tracks. If you're having glass doors, chances are regardless of how diligently you clean them, there will be gunk and mold
Curtains can be swapped out to change the decoration and vibe – If you decide that you've had the same style and decoration for a long time, you can swap out the curtains. This will help you install new curtains and introduce a new vibe to the washroom. Swapping shower curtains is incredibly easy, budget-friendly, and simple. Moreover, it'll make a big impact on the overall look of the washroom.
It'll be easier to bathe kids and pets – Using shower curtains will be helpful if you have to bathe kids and pets. Using shower curtains with bright colors will mean that the kids and pets have their attention to the curtains. This way, they will not cause many problems when bathing them. They might even start playing with the curtains, making them silent and easier to bathe.
Shower curtains will make the washroom look bigger – If you have a small washroom, the space occupied by the tub takes up a big portion of the room. Using a shower curtain, you'll have the option of drawing the shower curtain back. This will unite the tub area with the remaining portion of the room, which makes the washroom look bigger.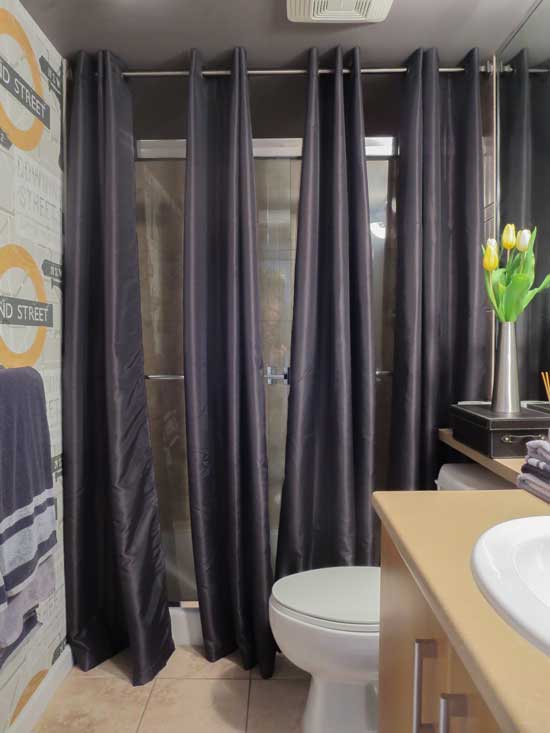 You will not feel like you're bathing inside a glass box – For some people, this might not be a big deal. However, many people feel weird when they have to shower while being surrounded by glass doors. It is common to feel trapped if you have a boring shower door, but a shower curtain will instantly make the vibe more pleasant. You'll feel much more alive and pleasant if you're taking a shower surrounded by shower curtains.
Possible alternatives to shower curtains to decorate your washroom
Alternative 1: Aluminum and steel frame
While it is an unconventional option, an aluminum or steel frame will add a classy look to your showers. Most people go for this option by combining the frame with glass panels. However, you can skip the glass and still get a cool, unique screen to decorate your shower space. Depending on the level of privacy you want, you can always go for a structure or screen having large designs. It can be either squares or finer designs such as filigree. Such screens will work well with tub/shower enclosures. You can even get a sliding frame, very similar to Japanese Shoji screens but without the glass.
As such screens aren't readily available, they must be custom ordered as it could end up costing a fair bit. Moreover, cleaning the frame and keeping it sparkling will mean regular maintenance. Failing in providing the right maintenance will mean water damage. The stains and spots can take away the look of the frame to a great extent.
Alternative 2: Framed enclosures
Framed enclosures will be popular alternatives when it comes to shower curtains. This will be a low-cost solution that will bring a neat, decorative look to your washroom. The entry to the shower could be easily framed in classic brass. Further, you can even opt for a more modern and stylish chrome finish. There is also the option of an oil-rubbed bronze frame to have a neat combination of affordable and traditional.
However, this will only work for shower enclosures having a doorway, especially as it is for decorative purposes. Keeping the frame clean might take some effort. Although it isn't the same level as the aluminum and steel frames.
Alternative 3: Partial shower doors
Partial enclosures will work very well with shower stalls and/or tubs. A decor trend that is very popular in Europe, partial shower doors are modern yet budget-friendly. These come in different shapes, sizes, silhouettes, and materials.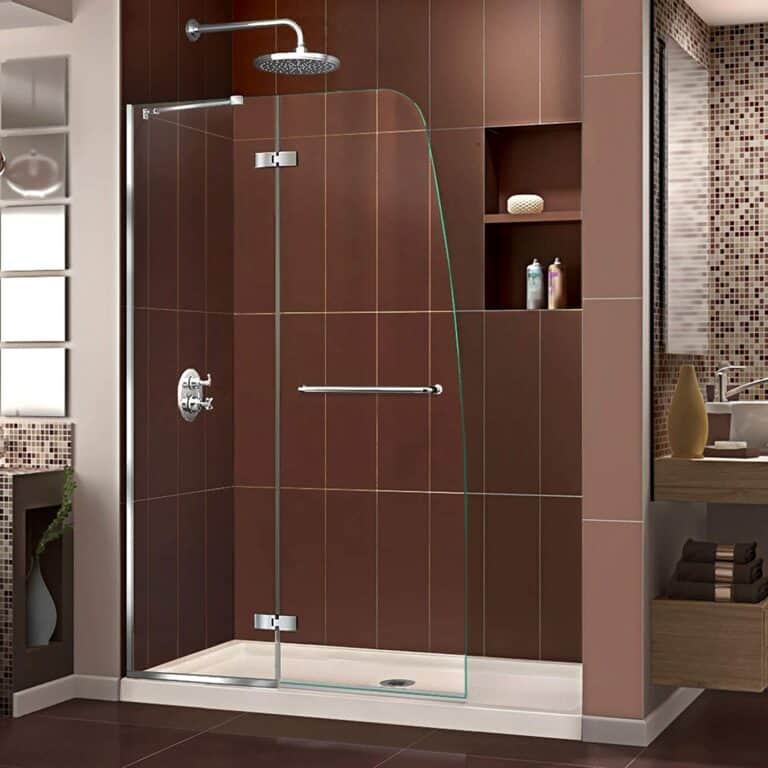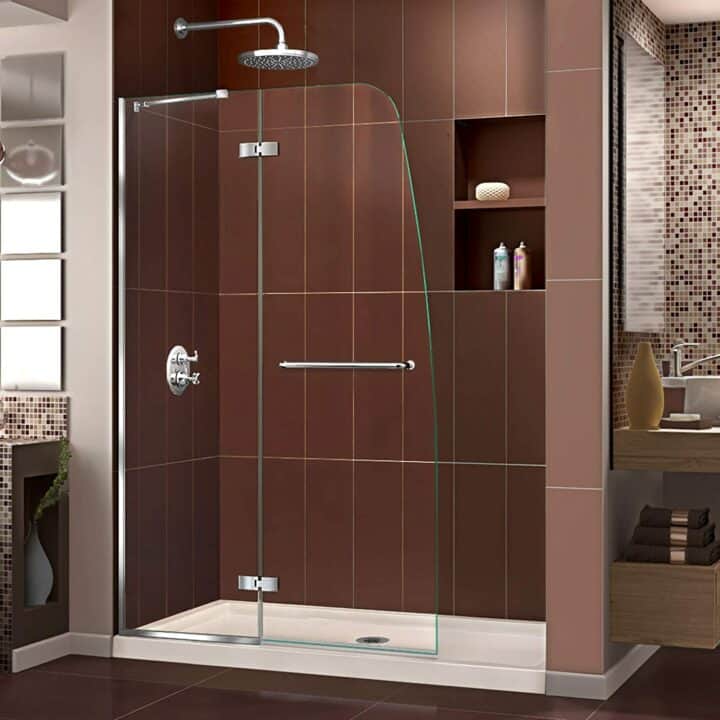 The partial shower doors are just what the name suggests. They will partially shut off the shower area while partially leaving it open. While they're commonly available in glass, you can also be creative and use materials like steel, aluminum, or wood.
Other alternatives
If you've decided to stay away from glass curtains, there are many other types of glass door materials available. There are many decorative glass doors that will spice up your shower space. Some of them include obscure glass, hammered glass, rain glass, tinted glass, frosted glass, and more. There is a wide variety of options available, which will help you decorate the shower doors while boosting your privacy.
A combination of decorative additions
If you wish to opt for a shower door made of glass, but you don't mind a bit of glass, you should get a door that is a combination of glass and other materials. Some of the most common and stylish options to go for include metal, wood, tiles, and others.
The options will be almost infinite. You will be able to customize the designs depending on the proportion of glasses to other materials that you want. This will allow more opportunities for design, from sliding doors to barn doors. You'll be able to match them with the lighting, mirrors, and other decorations for creating a unifying decor.
Conclusion
Thank you for reading. Hopefully, now you know a lot more about shower curtains, how to decorate shower doors with curtains, its benefits, and more. Shower curtains are a great way of decorating your shower doors. These are easy to install, easy to replace, and give you privacy, while also protecting the door from soap scum and water spots.