Do you feel that your hallway is too dark and narrow? Don't worry, you can brighten it up and you'll get to know how to do it here.
Brightening a dark hallway is actually very simple. All you need to do is know how to use the color schemes, mirrors, and lights to your advantage.
In this article, you'll get to know all about how to brighten a dark hallway, the different ways to do that, and a lot more. Continue reading to get all the answers.
Brighten up your dark and narrow hallway
It is very common to have dark, narrow hallways, especially if you live in a traced house. These houses allow very little light into the space. It is common for such residents to want to know how to brighten a dark hallway. One of the options that you can go for is to embrace the dark hallway with a moody, dramatic paint job or wallpaper. However, it is normal to want to maximize the light and space in the hallway. Fortunately for you, there are several ways to manage that, from total redesigns to quick fixes.
Soft lighting and a pace color scheme will be the most accessible options. You can cover the walls and the floors in white. Mirrors will also work as they'll reflect the existing natural light, making it through the front door or nearby rooms. If you're in an adventurous mood, you can also go for bright shades of green or yellow to give a sunny scheme. This will distract the eyes from the lack of daylight. Finally, the most direct way of lightening things up would be by utilizing actual light. You can replace a part of the front door with a glass or add a skylight.
How to brighten a dark hallway using simple tricks?
Your entrance hallway will be the first impression of your house's interior. It must strike the right chord to brighten up your day while impressing the guests as well. In case you find yourself fumbling and looking for the light switch each time you're walking through the front door, or you trip over objects each time you walk, chances are your hallway is a bit too dark. You'll need to know how to brighten a dark hallway, as it'll be useful in more ways than one. The hallway must be a light-filled, welcoming room. Here are some of the best ways you can brighten up a dark and narrow hallway easily.
Go for better lighting
Lighting is arguably the easiest way of brightening your dark hallway. There are many ways you can do that. Wall sconces could be the clear-cut solution, while ceiling spotlights will also cleverly keep the hallway bright. Make sure that you're able to avoid any heavy, low-hanging lights in a narrow, dark, and compact hallway.
The perfect lighting will help you make the difference when you're looking to create a welcoming atmosphere in the hallway. You can choose a wall-mounted uplighter for casting a soft diffused light against the ceiling and wall. It'll be very effective when used with a dimmer switch. If you have enough space, you can also add a floor lamp for brightening up dark corners. This way, you'll create a warm glow in the hallway.
Paint the woodwork and radiators the same color
When painting, you shouldn't forget the woodwork and radiators, as they can be easy to forget. By giving the woodwork and radiators a fresh lick of paint, your dark hallway will feel new and bright again. It's not always about the walls. Putting a fresh coat of paint on woodwork will brighten up the hallway too.
Tones of white can be a suitable color for getting a bright hallway while also making it look super stylish. It'll be even better if you paint the woodwork with something like a pale gray for giving definition.
Go for light color schemes for walls and floors
Similar to the front door, you should paint your floors and walls with light colors. Light color schemes will create the illusion of light, brightening your dark hallway.
You don't necessarily have to stick to just one color. You can create feature walls or paint just two-thirds of the wall. Not only that, but you could paint the wall around the front door and the door different colors from the rest of the hallway. This will make your dark hallway seem a little brighter.
Paint the internal face of the door
A heavy wooden door can easily absorb the light instead of reflecting it. It'll be helpful to paint the internal face of your door with a light color, as it'll brighten the hallway. It doesn't necessarily have to be white color, but any light color will do an outstanding job.
However, white is still the best option. A hardwood door will likely absorb light and add to the sense of gloom. Painting the internal face of your door white will reflect light while transforming the ambiance of the hallway. This trick will work even if the door doesn't have glass.
You can top it off by choosing your favorite color for the outside of the door. This will elevate the sense of welcome and take attention off the dark hallway.
The banister and stairs
An often overlooked feature would be stairs and banisters, as they can easily brighten up your hallway. In case they're not carpeted, you should paint the stars a lighter shade. Balustrades and banisters can also be painted in lighter colors. You will have the option to choose if you want to go with the same color or with complementary colors.
A natural wooden balustrade can sometimes eat precious light. Painting the balusters white not only softens the overall effect of the stairs, but also enhances the light reflection. If you're reluctant to paint wood features, you should know that painted wood is still wood with its unique aesthetic.
Add some glass upfront
The best way of dealing with issues of darkness will be to introduce more natural light. Even the smallest windowpane in the front door or side panels will greatly help.
Go for transparent balustrade
If you're looking to do major work, you can replace the traditional balustrade with one made using clear glass. A glass balustrade will give your house a greater flow of natural light, brightening a dark hallway.
Declutter the hallway
The fewer bulky objects you have lying around in the hallway, the more light will move around. The more space will be visible and the more spacious and brighter the hallway will look. You should try and keep your shoe and coat storage as neat and tidy as possible. Go for slim furniture options. Make sure there are no objects lying around in the hallway.
Ceiling spotlights will be very effective in narrow, dark hallways. They will not take up space or draw the eye, and you'll be left with clean lines. If you have hanging lamps or light bulbs, you should go for a slim shade that will not crowd the space.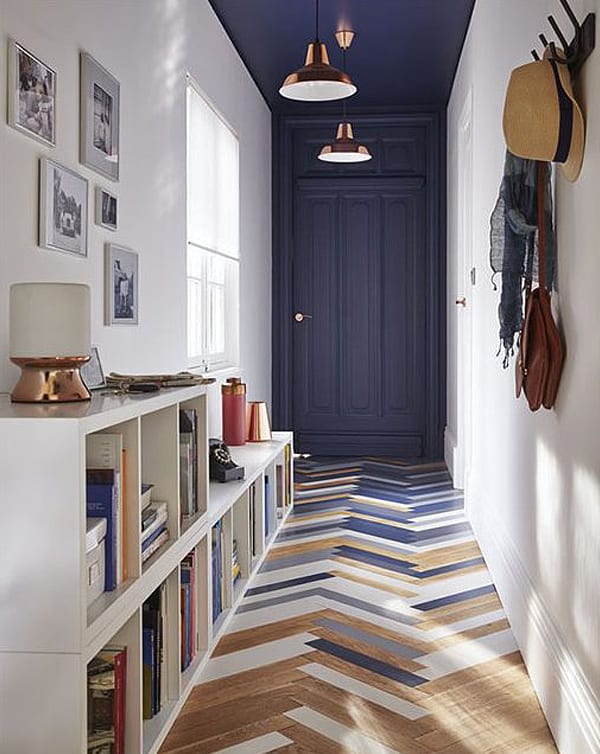 Skylights
Similar to internal windows, this option isn't for everyone. If possible, you should see if the roof will allow for a skylight. You can then strategically place mirrors or use lighter colors for maximizing the light.
Light from above will be powerful and transforming. In fact, skylights can be 3x more effective at brightening your dark hallway as compared to regular windows. A study has found that skylights emit more light per square meter than vertical windows, making skylights 3x more effective. Combine the skylight with light-reflecting decor, it'll allow the hallway to be constantly flooded with natural light.
Doors and flooring
If you're looking to redecorate the hallway space entirely, always begin with the flooring. Whether you're going for marble stone, hallway tiles, or a soft carpet, it'll dramatically brighten up the hallway. You must remember that this is a place where everyone will walk when entering your home. Make sure that the flooring is weather-resistant and bright.
A door that has clear or translucent glass would be fantastic, as it'll flood your hallway with light. This will, in turn, make everything seem lighter and larger.
The choice of flooring for the hallway will be pivotal in determining how light the hallway feels. Opting for a lighter scheme with wooden planks or large tiles helps create the illusion that there is more space. Moreover, it'll also make the hallway a bit brighter.
Try a mirror to reflect light
Similar to painting the internal face of the door, mirrors will also reflect the light coming into the hallway. Place the mirrors strategically opposite light walls or in clusters for bouncing light around the hallway.
Mirrors are the simplest of solutions. A strategically placed mirror can amplify the space and make the light bounce around the hallway. You'll need to position the mirror for reflecting both natural light and artificial light.
Borrow light from adjoining rooms
Internal windows will be a great way of introducing more light into the dark hallway. It is a proven and effective method. If you don't want to go the expensive route, you should go for the internal doors with a glass pane. This will help you stream light into the dark hallway.
If your house is detached, it would be possible to steal the light from the side.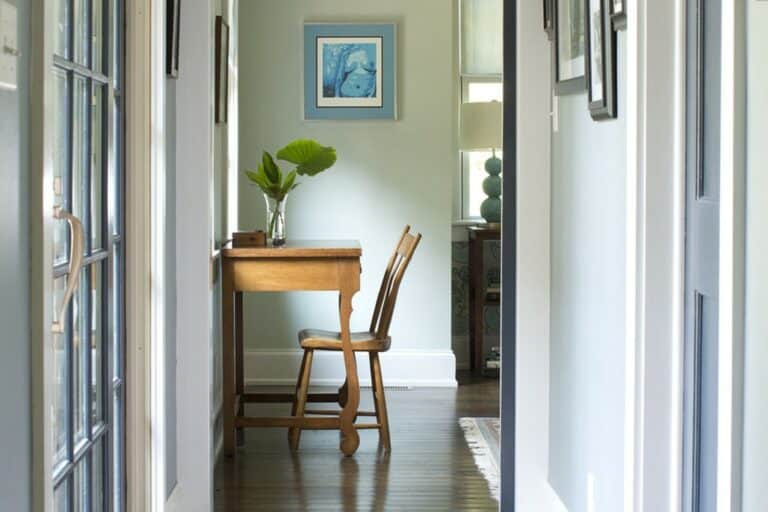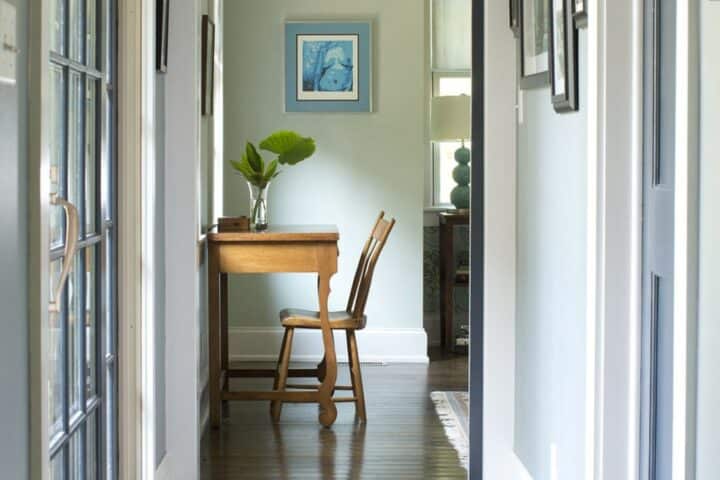 For something less structural, you should use doors with clear or translucent glass between the hallway and adjoining rooms. It'll allow natural light to flow through the first floor. Single-panel glass doors will work well in both contemporary and period homes. Again, frosted or opal glass will give you privacy and brightness when needed.
White floor tiles
It is important to adopt a light palette when you're choosing the color and finishes for your dark hallway. While floor tiles will be of significant help here. In particular, tiles that have a low sheen will reflect the light and brighten the dark hallway.
Going for white floor tiles will likely mean more dirt. You can combat that issue by putting a recessed mat at the front door. It'll greatly help with dirt management while providing the color and texture to supplement your room's color scheme.
Embrace the darkness
Lastly, not having natural lighting isn't always a bad thing. You can always embrace the darkness, and it'll create an ambiance that'll immediately make you feel relaxed. Dark greens will be intensely relaxing, while navy blues are very calming. There are dramatic colors that'll undoubtedly make a big impact on anyone who steps through the door.
You can soften the dramatic and striking shades using softer pastel colors in furniture or soft furnishings.
Conclusion
Thanks for reading. Hopefully, now you know a lot more about dealing with dark hallways and how to brighten a dark hallway easily. The biggest ally for you if you want a brighter hallway would be natural light. Using natural light and mirrors, you will be able to create the illusion of a brighter hallway. Another great option would be to use a light-colored paint scheme, or glass, or get light from adjacent rooms and use it to your advantage.