Do you have cedar walls at home, but do you wish to modernize them? If yes, then you're definitely in the right place.
Modernizing cedar walls isn't as tedious of a task as many people may think. In fact, there are several proven ways you can do that. Some of the best ones are wood paneling, painting, whitewashing the wood panels, using art, adding stripes, and more.
In this article, you'll get to know all about modernizing cedar walls, how to modernize cedar walls, and a lot more. Continue reading to know all the answers.
Modernize cedar walls at home for better aesthetics
Cedar walls are very unique as they add rustic charm to the room and give a classy aesthetic to your room. You can either go for smooth and polished finishes, or you can have more textured looks. The roots of cedar walls go as far back as the Colonial era, when wooden plants were used for both interior and external walls. Meanwhile, the plants were being used for dividing rooms. In recent times, cedar walls have made a comeback. Installing cedar walls and customizing them has become a popular trend.
If you feel that cedar walls make your room feel chaotic, then think again. You can very easily modernize your room's cedar walls and get a stylish look. Moreover, they'll also introduce texture-rich dimensions instantly. Whether you're looking to add modern paneling to your house or you want to make the walls modern by updating them, there are many ways you can take your cedar walls game to a whole new level.
How to modernize cedar walls by installing wood panels?
There are many ways you can modernize cedar walls and upgrade the look and feel of your rooms. Here are some of the tried-and-tested ways of modernizing the cedar walls in your house.
#1 – Install cedar wall panels
Many brands sell two types of cedar wall panels – red and white. White cedar wall panels will range from white to brown in color, having straight grain and small knots. The softwood will have natural oils that will be rot-resistant and repel insects. Meanwhile, red cedar will have reddish and pinkish hues, with wide bands of amber, brown, or cream. Like white cedar, this one will also have a straight grain.
Nickel gap installation will feature a consistent gap. The gap will be between boards close to the size of a nickel. Then, there is also ship lap, where the wooden boards will slightly overlap. This will create a channel between the boards. Each board will be nailed onto the front of the other. This will create an attractive overlapping effect and give the cedar walls a modern, rugged look.
#2 – Refine the cedar wood paneling
You will be able to refinish the finished cedar paneling without having to remove it. Firstly, you will need to sand off the present finish. Remove any rugs and furniture and place clothes in case there is any carpeting.
Use an orbital sander for roughening up the wooden surfaces going one wood panel at a time. You'll need to sand with the wood grain instead of against it. Remember not to move the sander in circles as it could make the finish look uneven. Once you're done sanding, use a brush attachment for the wood panels and vacuum the area.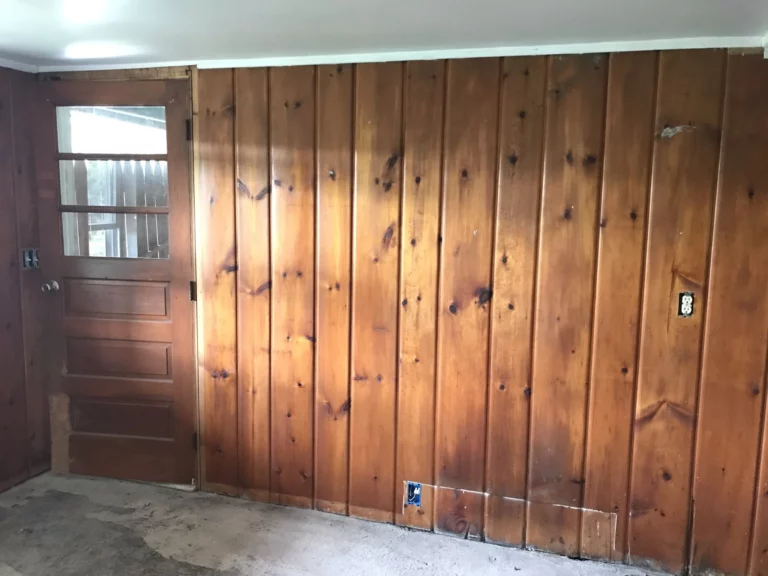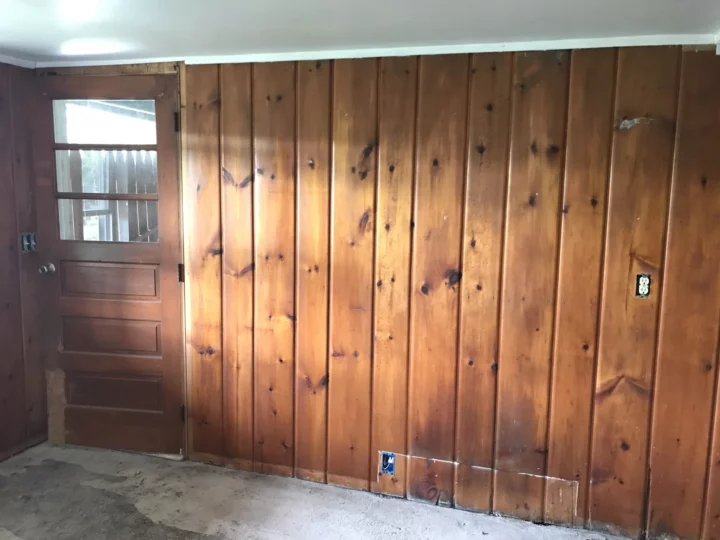 There will be dings and hopes in the paneling, and they have to be filled. Use a bit of wood putty and fill in these imperfections. Lastly, you should allow it to dry and smooth it using sandpaper.
#3 – Paint the cedar wood paneling
Cedar wooden panels can be easily painted and designed. Once you're done sanding, ensure that the panels are free of any dust and dirt. Wipe them with a damp cloth for removing any residue and give them enough time to dry. Prepare the area by simply taping off the baseboards, ceilings, and trim. Paint on the stain-blocking primer and then allow it to dry for 24 hours.
For painting, you'll be able to use interior latex paint. You will find that a satin finish is easy to clean and extremely durable. The best method would be to cut in the edges using a paintbrush and then roll on the rest using a 3/8-inch paint roller. In case you don't like the look of the painted paneling, you could use a stain instead.
Using varnish and polyurethane stains will offer a glossy finish and decent protection. However, the later repairs will be more difficult to pull off with these finishes. Using a thin stain, like Danish oil, will be very simple to apply, and it'll offer a more natural look. However, it'll fade over time, and you'll have to reapply it after a while. This will be very easy to do so. You'll need to clean the panels and then repaint the stain.
Alternate ways to modernize the cedar walls at your house
Whitewash the cedar walls
There is no shame if you secretly love the wood grain texture of your cedar walls and wish to keep it the focal point. It is possible to keep the wood grain texture of the paneling while brightening up your room. Instead of using a full coat of white paint, you can go for the whitewashing technique. This technique will allow you to modernize your cedar walls while losing the ski lodge-fallen-on-hard-times vibe.
Start off by watering down the paint and brush on the wood after that. You should immediately wipe and then repeat it until you've got the desired color. Make sure that the new color works well with the furniture and decor.
Turn the wood panels into walls
Grab a bit of drywall compound that you can get at your local home improvement store. Now, use it for filling in the distinctive cracks and lines of the wood paneling. Once you've done that, sand, prime, and then paint the wood. Use different colors to get different patterns and designs. The final product will look like a typical painted wall and give your cedar wall a modern look.
Add stripes to the cedar walls
It is possible that you might have been looking at the wood grooves wrong all along. For a different take, you can create lines or strikes in the panel walls by painting the paneling groves. By giving it a different color as opposed to the paneling slats, you'll be able to get dynamic designs. Certain designs could even mimic the look of oak, pine, or other types of cedar wall paneling.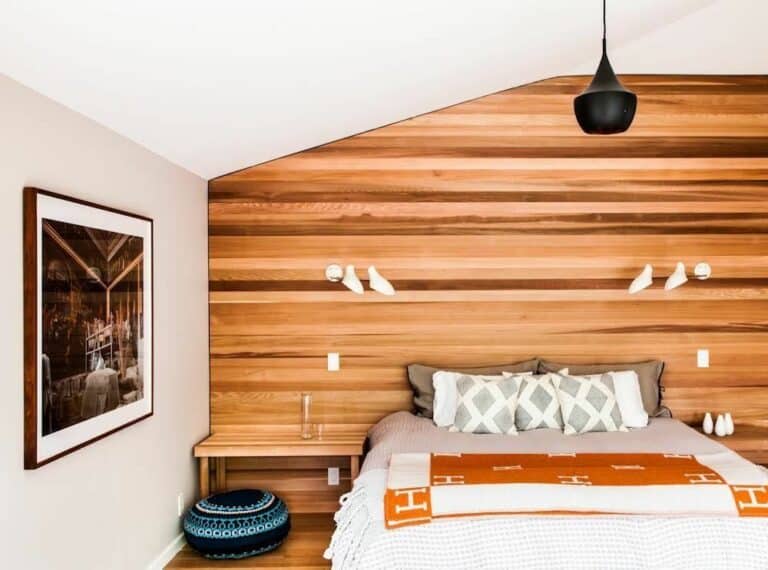 Mix and match different colors and create different stripe designs on the wood paneling. This will help you create dimensions that attract eyes to your cedar walls.
Hide the cedar wall paneling under the art
Just as a great magician can pretend to saw their assistant in half, even you can make your cedar walls modernized by using art. Art and painting will draw the attention away from the cedar wall.
A gallery wall having art hung salon-style or the addition of sculptures will distract from cedar walls. This way, you can present unique designs and give modernized looks to your room.
Hide the wood paneling with curtains or shelves
You can distract the onlooker from looking at the cedar walls if you've constructed something in front of the wall. Not only will it allow you to hide spots and stains, but you'll always be able to modernize the cedar walls.
Install built-in bookshelves or curtains over the paneling for disguising it. Curtains will also mask the wood paneling while giving a distinct look to your room.
Give new colors to the wood and embrace the change
Instead of pretending that the panels are classy and fine, why not change the color scheme and embrace the change? Paint the cedar walls in different colors, and it'll modernize the walls.
You can even alter the colors, like going for white and black or blue and black. You can even hire a designer and give a new vibe to your cedar walls.
Create geometric patterns
Wood paneling doesn't always need to be installed horizontally or vertically. Geometrics have slowly become a major interior design trend, and it works very well with cedar walls. You can play around with different patterns to give eye-catching, vibrant, and modern looks to your cedar walls.
Install wood paneling on the ceiling
Wood paneling isn't just limited to your cedar walls. You can take the modernization of your cedar walls to new heights once you install it on your ceilings too. You can even extend the wood paneling on the cedar walls to the ceiling to make the room seem bigger.
Add texture to the cedar walls
Color isn't the only way you can make your cedar walls pop. Add some much-needed texture by installing the wood paneling with rough-cut textures. You can go for band-sawn, circle-sawn, and planed wood paneling.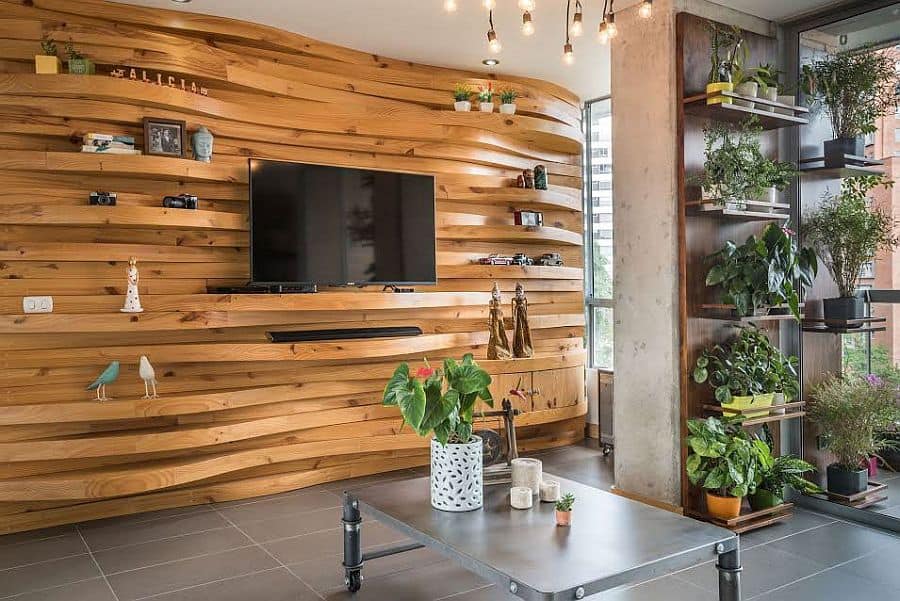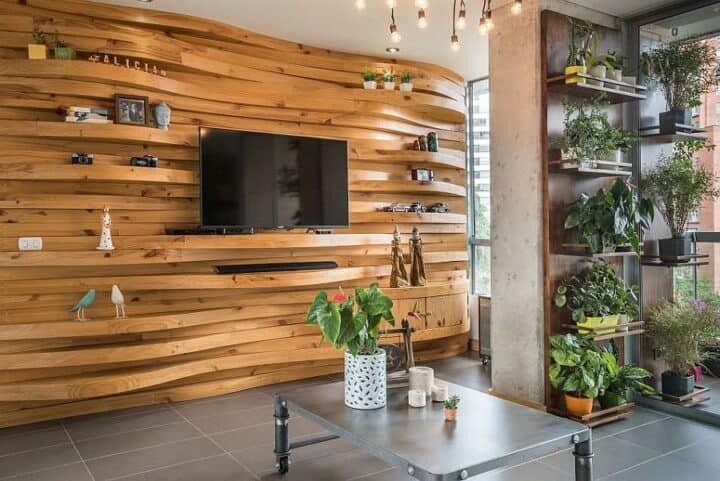 Circle-sawn wood paneling will be perfect for anyone going for an authentic rusting appearance. This will be the roughest of the three options that you can go for. A band-sawn texture will be less rough, as it is produced with a band saw. The face will have straight markings instead of circular markings. Planed wood paneling will be the smoothest of the three, while it'll also give the texture needed to attract attention.
Install wainscoting
Wainscoting is a design term where only the lower part of the cedar wall is lined with wood paneling. It'll give you the perfect mix of function and style. Wainscot wood paneling will protect the wall from smudges and scuffs, while also adding a touch of modernization and sophistication to the room.
Leave small gaps between wooden boards
Often, people confuse this method with ship lap. Nickel gap will be a popular wood paneling installation trend that complements any modernized cedar wall aesthetic. Installing the nickel gap will be similar to groove and tongue. However, it'll differ by creating small gaps in between the boards. By leaving small gaps, you'll be able to give the walls a different design and a modernized look.
Create an accent wall
Simply ease into the wood paneling trend by making use of an accent wall. It'll be a great way of adding texture and warmth to your cedar walls while giving them a modernized look.
Make use of thin slats
Thin slats may seem a bit retro, but with the right wooden stains, you'll be able to make it work for your modern adobe. You can simply install the thin wood slats vertically instead of horizontally. This will give your cedar walls a more modern and unique look.
Conclusion
Thank you for reading. Hopefully, now you know a lot more about cedar walls, wood paneling, and how to modernize cedar walls. Yes, cedar walls do have a different look, but that doesn't mean you cannot modernize them. Pick the most suitable method for you mentioned above and modernize the aesthetic and look of your room.